Nick Viall accidentally caused Vanessa Grimaldi to flash her bottom on Monday's episode of Dancing With The Stars.
Also read: Is Kristen Stewart morphing into Justin Bieber? [PHOTOS]
The 36-year-old reality star chose the year 2016 as it was in this year that he found love with Grimaldi on The Bachelor.
"Obviously, meeting Vanessa and finding love and falling in love have been a big part of my life the past couple of years," Viall said on Monday. "It is kind of a blessing for me — looking back at 2016, [it] was kind of the year that I feel really paid off from just being willing to take risks and take chances and not give up on some things, even though at times, it would have been easy to walk away."
Viall and his dancing partner Peta Murgatroyd recreated what's it to be like on The Bachelor with a rumba that ended with Viall lifting his fiancée up and kissing her. This was when he accidentally pulled up her skirt.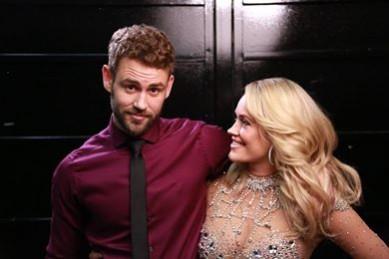 "That was good top to bottom...always do the wardrobe check during dress rehearsal," Dancing with the Stars host Tom Bergeron joked after their performance.
Luckily, the audience did not see the wardrobe malfunction as Viall pulled down the skirt quickly.
Viall is currently busy with Dancing with the Stars, and he is still getting to know his fiancée.
On April 3, Viall had told Mario Lopez on On With Mario Lopez that they are yet to plan their wedding.
"We're just taking things slow — we're very realistic about our situation, and that is that this relationship is different than one that might have started outside of Bachelor world. And so we're OK with that reality and just taking things slow and enjoying those little moments as we move our relationship forward," he had said.
He also credited Grimaldi as one of his biggest supporters on Dancing with the Stars, which airs Mondays on ABC.