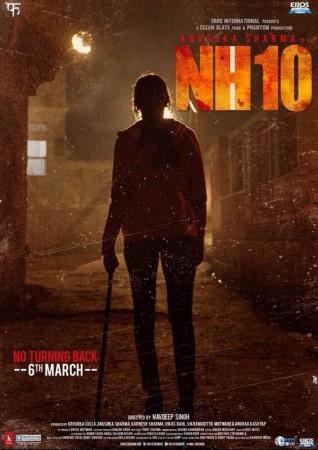 Praises have started pouring in for Anushka Sharma's thriller movie "NH10". The makers had arranged a special screening of the movie for Bollywood celebrities and reviewers.
Co-produced by Anushka, the storyline of "NH10" is based on a couple's road trip that changed their life.
"NH10", directed by Navdeep Singh, will hit screens worldwide on 13 March. Apart from Anushka, the film also stars Neil Bhoopalam and "Mary Kom" actor Darshan Kumaar in pivotal roles.
Bollywood celebrities, including Ranveer Singh, Karan Johar, Arjun Kapoor, Huma Qureshi and Shraddha Kapoor among others took to Twitter to praise the movie.
Check out the celebs reaction below:
Ranveer Singh: Saw #NH10! Gripping, nail-biting, edge-of-ur-seat thrill ride from hell! @AnushkaSharma kicks some serious ass! Beyond brilliant! #girlpower
Karan Johar: From edge of the seat to exceptionally compelling...this ride makes you invest in every moment! @AnushkaSharma is beyond brilliant! #NH10
Riteish Deshmukh: #NH10 is an absolute edge of the seat thriller- @AnushkaSharma is the new angry young woman in town- brilliance personified. Take a bow.
Varun Dhawan: #girlpower @AnushkaSharma is outstanding .#nh10 is must watch specially for all the men. Superb job Navdeeep
Rhea Chakraborty: Just watched #NH10 @AnushkaSharma has done what every actor dreams of-what a performance @neelbhoopalam is super.MINDBLOWING must watch
Huma Qureshi: So @AnushkaSharma erupts .. She screams out loud and clear against everything wrong with patriarchy .. More power to u girl #NH10
Shraddha Kapoor: Just saw NH10 &..OMG. It's just SO nice to see a genuinely good film! Was at the edge of my seat, heart racccciiing, totally in to it!!!
Arjun Kapoor: A courageous relevant and important film @NH10themovie @AnushkaSharma @FuhSePhantom take a Bow...
Ali Abbas Zafar: NH 10 is a roaring film a voice that India needs to hear loud and clear & meera @AnushkaSharma you represents a true Indian women. Kick ass.
Tarun Mansukhani: What a fabulous film #NH10 is!!!! So so so proud of my friend Karnesh for his first production. This film sets a new standard in writing.
Dipannita Sharma: Watched a special screening of #NH10 . An extremely gripping movie, edge of the seat thriller.Performances awesome! #anushkasharma brilliant
Aditi Mittal: Nh10 is relentless, brutal and very very very satisfying. It's been SO long since I've sat at the edge of my seat for a whole film.
Punit Malhotra: NH10 is super. Perhaps the right film to release this weekend given what's going on all around. @AnushkaSharma is brilliant.
Shashank Khaitan: NH 10 is Riveting, Relentless, Unadulterated Cinema. Loved the film. @AnushkaSharma #navdeepsingh @DarshanKumaar #kanu take a bow.