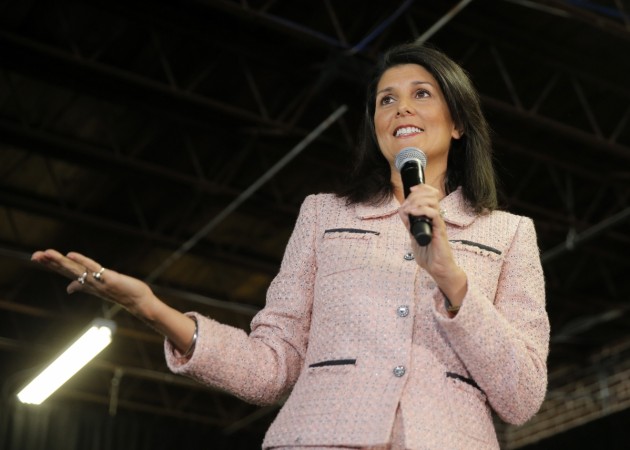 US President-elect Donald Trump has chosen South Carolina governor Nikki Haley to be the country's ambassador the United Nations, a prestigious post that also requires a great understanding of world politics at the highest level. This is the first female appointment to a Cabinet-level post by the Republican businessman.
Here are 10 things you should know about the new US ambassador to the UN:
1. Nikki Haley is of Indian origin. Born Nimrata Randhawa, Haley was Sikh by religion before converting to Christianity following her marriage and is an American by birth. However, the 44-year-old says she is "White," and it is even mentioned likewise on her voter registration card.
2. Haley has a Bachelor's degree in accounting from Clemson University. She also has an honorary doctorate in public service, given by the University of South Carolina.
3. Haley turned her mother's ladies clothing shop Exotica International into a US-wide chain while working with it, and is now president of the South Carolina Chapter of the National Association of Women Business Owners. She had been the national treasurer under the president in 2003-04. She was also on the board of directors of the Orangeburg County Chamber of Commerce and the Lexington Chamber of Commerce.
4. The first Indian-American to hold office in South Carolina, Haley had cut short the near-three-decade run of state Representative Harry Koon in Lexington County in only her first election.
5. Haley is decidedly anti-tax. Surprisingly, she bats for enforcement of immigration laws, despite being the daughter of two immigrants. Her parents first migrated to Canada before arriving in the US. She is also pro-life, toeing the party line on abortion. She also toes the party line on LGBT issues.
6. Haley first became governor of South Carolina in 2010. She had a tough time initially, despite the endorsement from known names like Mitt Romney, but her fortunes seemed to change post an endorsement by Sarah Palin.
7. However, she was fined in 2013 for failing to disclose eight donors who had contributed to her campaign in 2010.
8. Haley happened to be the third non-White person to be elected governor of the Souther states, the other two being L Douglas Wilder in Virginia and Bobby Jindal in Louisiana.
9. When she was re-elected South Carolina governor in 2014, her winning margin was nearly three times the previous one in 2010.
10. At one point in time, she was even considered a potential vice-presidential candidate from the Republican Party with Trump as its presidential candidate, but later denied any interest in the post. She was also considered one of the top candidates for the post of US Secretary of State.