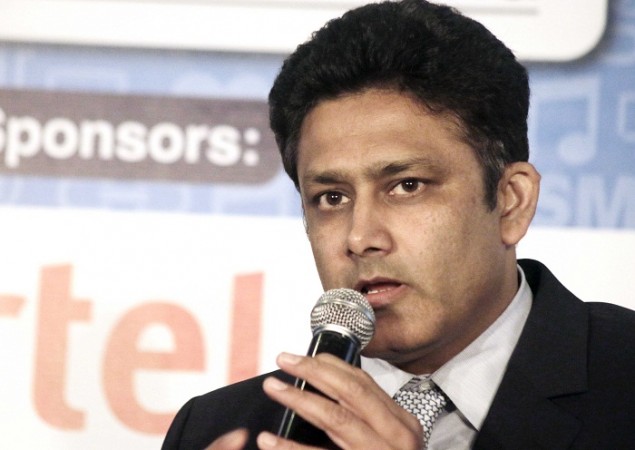 Former Test captain Anil Kumble bowled a googly, catching cricket fans unaware, after reportedly applying for the post of India cricket coach. It was a pleasent surprise, and he could be a strong contender for the prestigious post.
The BCCI, while inviting applications, wanted candidates, who had some sort of experience in coaching an ICC member nation. Though, he may not have coached a national side, he was involved in the Indian Premier League as mentor for Royal Challengers Bangalore and Mumbai Indians. Kumble has also played an active role in India cricket, as he is the former chairman of the National Cricket Academy.
As many as 57 persons, including foreigners, are said to have sent applications to the BCCI, showing interest for the prestigious role, and Kumble is a high-profile former player, like Ravi Shastri and Sandeep Patil, to have thrown his hat into the ring.
Other former India players like Venkatesh Prasad and Balwinder Singh Sandhu have also applied for the post. Though the names have not been made public former Australian cricketer Stuart Law has also reportedly expressed interest in the job.
Among the 57 applicants, Shastri is one of the huge favourites with Patil in the fray as well. But, with Kumble also having showed interest, it makes matters really interesting. Shastri was the last person to look after the affairs of the India team, and has the backing of the senior players to bag the all-important role as well.
The present India team does not have a permanent coach, which has been lying vacant after the tenure of team director Shastri came to an end with the conclusion of World T20 in March.
BCCI secretary, Ajay Shirke, is going to shortlist names from the 57 applicants, and will forward it to the Cricket Advisory Committee, who are going to look in to various aspects, before trimming it down firther and submitting it back to the cricket board.
ESPNCricinfo reported that the BCCI hierarchy make the final call and appoint India's coach in the working committee meeting on June 25.