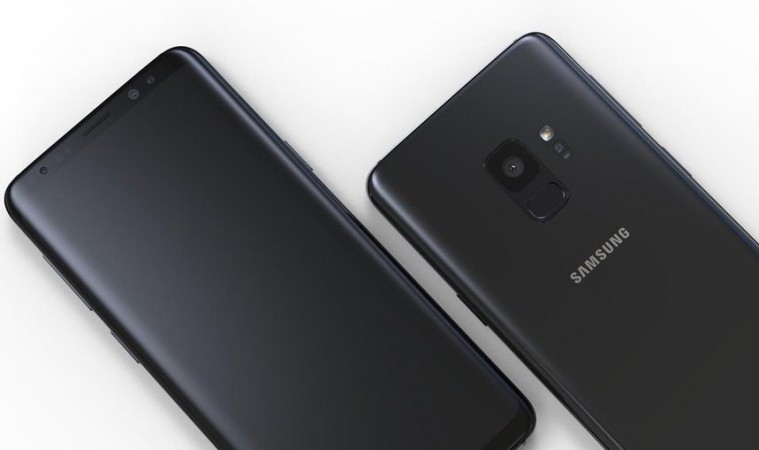 Although Samsung's upcoming Galaxy S9 and Galaxy S9+ smartphones could only be a couple of months away, rumours and leaks surrounding the phones continue to appear in a regular basis. The latest to join the rumour mill is a set of leaked renders of the Galaxy S9, apparently confirming an important design change.
The new high-resolution renders, leaked by @onLeaks, depicts a form factor that is similar to that of the Galaxy S8. The Galaxy S9, showed in the renders, features a very identical full-screen front with noticeably small top and bottom bezels.
However, what could be the biggest change in the upcoming Galaxy S9 is depicted in the render showing the device's back. As shown in the images, the fingerprint scanner on the phone will now be positioned below the camera, which looks to be a more convenient position than the earlier one.
The existing Samsung Galaxy S8 and Galaxy S8+ feature the fingerprint scanner right next to the camera lens. The awkward position of the sensor created a problem when users need to reach across the camera lens to use it, risking smudges.
In addition to the rear fingerprint scanner, the renders also suggest that the Galaxy S9 will stick to the conventional headphone jack on the bottom, and will carry a bottom-firing speaker.
The phone will also have the Bixby button on its left. However, it won't sport a dual rear camera system like the larger Galaxy S9+.
Earlier this month, a leaked screenshot of the company's S Health app sparked the speculation that the fingerprint scanner in the Galaxy S9 will get a new position underneath the rear camera leans.
A different set of renders of both the Galaxy S9 and Galaxy S9+ also revealed last week that Samsung would place the fingerprint sensor underneath the single lens on the Galaxy S9, and under the vertically-arranged dual camera lenses on the Galaxy S9+.
According to rumours, Samsung Galaxy S9 could come with a 5.8-inch QHD+ Super AMOLED screen, 4GB of RAM and a 3,100 mAh battery while the Galaxy S9+ will feature a similar display with an increased size of 6.2 inches, 6GB of RAM and a slightly larger 3,600 mAh battery.
The global version of the Galaxy S9 could feature Samsung's new Exynos 9 Series 9810 processor while the US-specific model will likely be powered by the Snapdragon 845 processor.
Samsung is highly expected to unveil the new phones in an around the 2018 Mobile World Congress (MWC) trade show in Barcelona, which is scheduled to kick off on February 26.