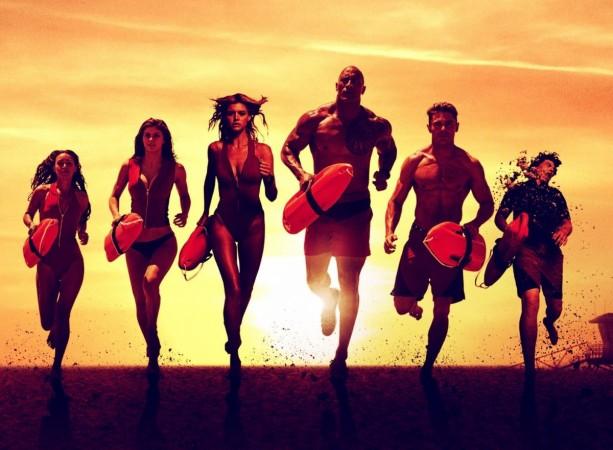 Paramount Pictures has released a new trailer of Baywatch and unlike the first trailer, we finally meet Priyanka Chopra's bad-ass character Victoria Leeds. The actress is seen pointing a gun at Dwyane Johnson in the international trailer.
Also read: Watch Baywatch trailer: Dwayne Johnson-Zac Efron's bromance takes spotlight; The Rock reveals why Priyanka Chopra is a no-show
The trailer shows Johnson (Mitch Buchannon) as the lifeguard and the squad's newest recruit Zac Efron (Matt Brody) who flaunts his shirtless look in the trailer, uncovering a local criminal plot together that threatens the future of the bay. Leeds appears to be the Rock and his elite team of lifeguards' enemy.
The official log line of the film reads:
BAYWATCH follows devoted lifeguard Mitch Buchannon (Johnson) as he butts heads with a brash new recruit (Efron). Together, they uncover a local criminal plot that threatens the future of the Bay.
The new trailer also sees more actions, explosions, and more jokes. In one sequence, Zac's Matt Brody is seen commenting, "I thought we were lifeguards? Everything that you guys are talking about sounds like a really entertaining but farfetched TV show."
The new NSFW international trailer of Baywatch has dropped a few F-bombs, which remind us that this is, indeed, an R-rated comedy.
The Seth Gordon-directed movie is the adaption of the hit 90s TV series (Baywatch) about sexy lifeguards. Screenwriters Damian Shannon and Mark Swift offer much more than the self-awareness of 21 Jump Street and that makes the comic retread pretty watchable.
Baywatch features Dwayne Johnson, Zac Efron, Priyanka Chopra, Alexandra Daddario, Jon Bass, Kelly Rohrbach, Ilfenesh Hadera, and Hannibal Buress.
Baywatch is slated to release in theatres on May 26. Watch the trailer below.