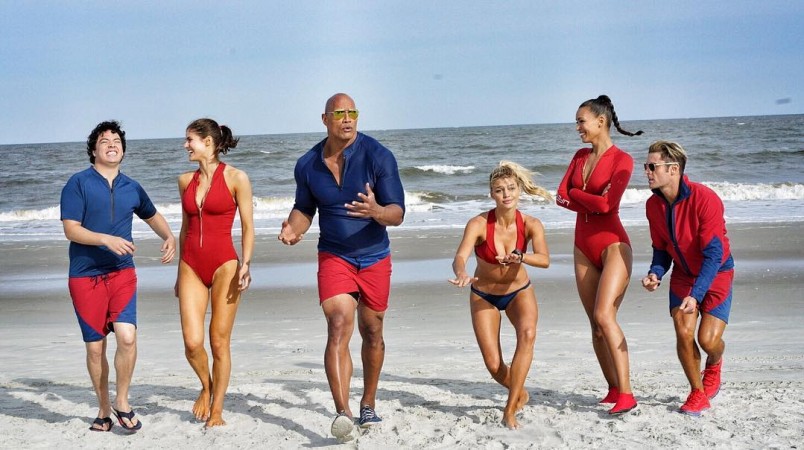 Baywatch team has just dropped a new motion poster on New Year's Eve. The movie features Dwayne Johnson, Zac Efron, Alexandra Daddario, Kelly Rohrbach and Bollywood diva Priyanka Chopra.
Also read: Watch Baywatch trailer: Dwayne Johnson-Zac Efron's bromance takes spotlight; The Rock reveals why Priyanka Chopra is a no-show
As a perfect gift for all the fans, the makers have shared the new poster on Twitter and captioned it "The best is yet to come. #HappyNewYear beaches! #BeBaywatch." Actress Priyanka Chopra has also shared the poster.
Previously the creators had also shared a poster on Christmas while captioning it "Ho, Ho, Hot. Merry #Christmas from our Baywatch family to yours! #BeBaywatch."
Dwayne Johnson aka The Rock has also shared it on Instagram, "all my beaches at? Oh the "beach" puns that are coming... Happy New Year from our #BAYWATCH family to yours. #StartinWithABang"
The motion poster says, "START THE YEAR WITH A BANG" along with some exciting background score in it.
Actor Zac Efron also shared a poster and captioned it, "Whaaat?!?! Our trailer is the #1 Comedy Trailer of the year? Thanks for the #Baywatch love!! Makes me want to slo-mo hug all of you."
The movie will be released in theatres on May 26 this year.
Baywatch star and beloved Bollywood actress Priyanka Chopra has also been announced as one of the presenters of the 74th Golden Globes Awards, the official Twitter account of the Golden Globe Awards has confirmed.