Arsenal are still in earnest search for their next manager to replace Arsene Wenger, who will step down after the end of the season but are likely to have a replacement in place by next month. The Frenchman was in charge of the Gunners for 22 years during which he has won three league titles and a record seven FA Cups.
The BBC reports that the north London club are likely to have a replacement in place before the FIFA World Cup, which starts in Russia next month. The Gunners have already pulled up a shortlist which include a few notable names, along with formerArsenal players who are currently into management.
Ex-Barcelona coach Luis Enrique is reported to be a major consideration for the job along with Juventus boss Massimiliano Allegri whose future in Turin will be decided in the next few days. Juventus have all but won the title and Allegri may look for a challenge abroad after almost securing his fourth consecutive title in the home of the Italian Champions.
Meanwhile, the speculation over Enrique has died down after the former Barcelona manager was reported to have demanded a considerable transfer expenditure in the summer to reshape the squad. Enrique is currently on a hiatus after leaving the Camp Nou last summer and would be keen to take over at the north London club should his demands be met.
Former Arsenal midfielders Mikel Arteta and Patrick Vieira have also been suggested as potential successors, as have Monaco manager Leonardo Jardim and three-time Champions League winner Carlo Ancelotti.
The Gunners have been laying the woodwork for Wenger's departure from earlier in the season, having already appointed a head of football relations (Raul Sanllehi) and a head of recruitment (Sven Mislintat) last year and the new boss would have to work closely with both.
Mislintat has been influential in signing Konstanstinos Mavropanos, the Greek defender who has started in the Gunners' last two Premier League games. Previously at Borussia Dortmund, he signed Ousmane Dembele, who moved to Barcelona last summer for a record fee.
Arsene signs off with emotional speech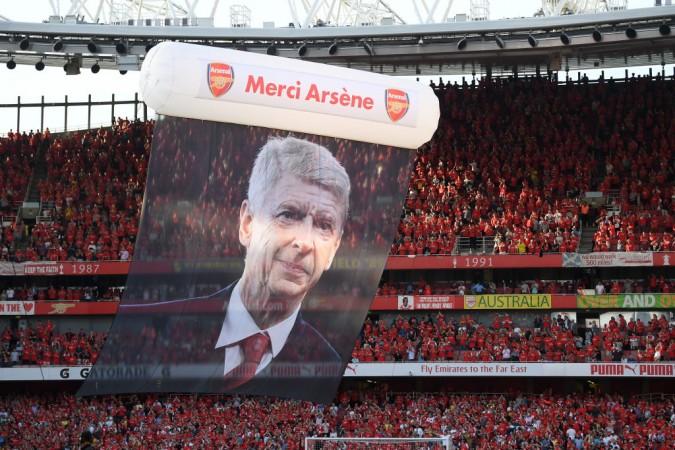 Meanwhile, the 68-year-old Wenger ended his romance with the Gunners with an emotional speech which left everyone attending Wenger's last home game at the Emirates struggling to hold back tears. The occasion was preceded by their 5-0 thrashing of Burnley, which saw the north London club play the best football they have all year.
Pierre-Emerick Aubameyang scored a brace while Alexandre Lacazette, Sead Kolasinac, and Alex Iwobi netted one goal each. The manager was then led onto the pitch after the game where he was handed the gold Invincibles trophy which the north London club were awarded for their 2003-04 title winning season where they went an entire season unbeaten.
"I would like to thank everybody at the club which makes the club so special," Wenger said after the presentation.
"I would invite you to really push to support these players and the staff which remains behind me. For me, this group of players have a special quality not just on the pitch but off the pitch. Follow this team and support them next season because they deserve it.
"I'd like to finish with one simple word - I will miss you. Thank you for being such an important part of my life. I hope to see you soon, well done, bye bye."
Read the full speech here.