Emotions were running high at the Emirates Stadium on Sunday, May 6 as outgoing Arsenal manager Arsene Wenger oversaw his final home game against Burnley.
Fans had flocked to the stadium to witness Wenger in charge of the dugout one last time as the Frenchman had announced he would be stepping down as manager at the end of his 22nd season with the north London club.
Arsenal had given red T-shirts with text "Merci Arsene" to all the fans who were in attendance Sunday and Wenger was joined by club legends Bob Wilson and Pat Rice on the big day.
The Gunners made sure Wenger's last match at the Emirates, the stadium he had helped the club build, was a memorable one by handing Burnley a 5-0 thrashing. The hosts played attractive, free-flowing football as Pierre-Emerick Aubameyang scored a brace while Alexandre Lacazette, Sead Kolasinac, and Alex Iwobi netted one goal each.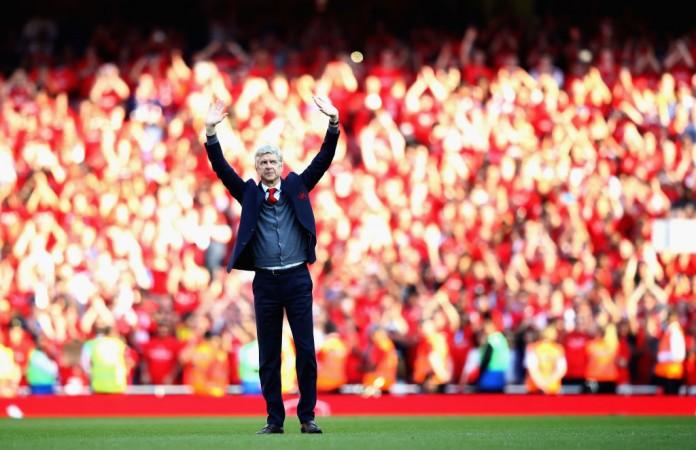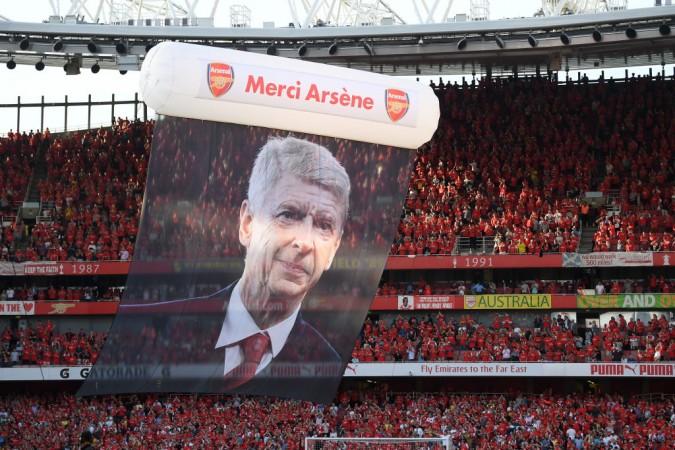 Notably, Wenger was given a guard of honor by both teams before the start of the match. He was also given a golden replica of the Premier League trophy that was handed to Arsenal at the end of their "Invincible" season (2003/04) where they went undefeated.
In the recent past, Arsenal fans have been split over Wenger's reign but most of them stayed back after the match Sunday to listen to the 68-year-old. Even as the French tactician remained mum for 15 seconds on the turf, fans cheered by chanting "one Arsene Wenger" in a chorus.
Wenger started his speech by wishing his nemesis Sir Alex Ferguson, who had undergone an emergency surgery for a brain hemorrhage, a speedy recovery.
Here's the full text of Wenger's emotional speech.
"Before I start, I just want to say I wish by fellow manager Ferguson well, and very quickly," Wenger said.
"Thank you very much for having me for such a long time. I know it is not easy!
"Above all I am like you, I am an Arsenal fan. That means this is more than just watching football it is a way of life. It is about caring about the beautiful game, about the values that we cherish and as well that something that goes through every cell of our bodies we care, we worry, we are desperate but when you come here dreams are realised.
"I would like to thank everybody at the club which makes the club so special.
"I would invite you to really push to support these players and the staff which remains behind me. For me, this group of players have a special quality not just on the pitch but off the pitch. Follow this team and support them next season because they deserve it.
"I'd like to finish with one simple word - I will miss you. Thank you for being such an important part of my life. I hope to see you soon, well done, bye bye."
Arsenal, who will finish the season without a silverware, are likely to finish sixth on the league table. The Gunners, who are nine points behind fifth-placed Chelsea on 60, will take on Leicester City and Huddersfield in their last two games of the season.