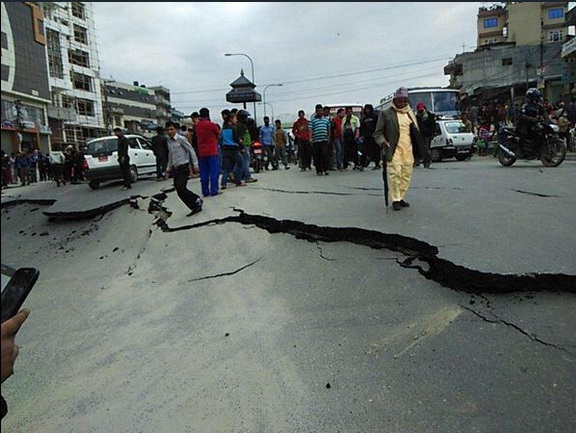 Twitterati, Bollywood celebrities and politicians extended their support to the victims of Nepal Earthquake.
A powerful earthquake of 7.9 magnitude rocked Nepal, killing hundreds and injuring several others. Tremors were also felt in Delhi, NCR and the entire North region.
Bollywood celebrities including Shah Rukh Khan, Amitabh Bachchan, Madhur Bhandarkar and Rannvijay Singha among others shared the emergency contact numbers. Shah Rukh also shared a link to Google's Person Finder app.
Amitabh Bachchan tweeted the photo of UNESCO World Heritage site Durbar Square in Kathmandu, Nepal, which is down to rubbles after the powerful quake on Saturday morning.
Big B said that he shot a song with Zeenat Aman for the movie "Mahaan" in 1983 at Durbar Square.
Check out below what celebs have tweeted about the massive earthquake in Nepal:
Shah Rukh Khan: May Allah look after all. Here r the emergency contact numbers for Nepal,share, help. Prayers with all in Nepal.
Amitabh Bachchan: Seeing devastating pictures and news of the earthquake in Nepal ! Prayers that all is well and all are safe .. !!
Riteish Deshmukh: Prayers for the wellbeing of people in Nepal. And other earthquake affected areas.
Hrithik Roshan: My heart goes out to all the families affected by this tragic quake, d lives lost n d injured..I pray for u all...strength to you
Sonakshi Sinha: Just read abt the earthquake in nepal! Prayers with those affected! Pls help in any way u can, start by sharing this!
Akshay Kumar: Sad 2 see this image of extensive damage due to the #earthquake in Nepal.My prayers with the victims & their families
Madhuri Dixit-Nene: My prayers are with the people whose lives have been disrupted by the massive #earthquake.
Preity Zinta: OMG ! 7.9 magnitude earthquake in Nepal & parts of Northern & Eastern India. I pray to God that everyone is safe
Samantha Ruth Prabhu: Shocked hearing about the massive earthquake in Nepal. We shot here. Devastating! Strength to those affected.
Manoj Bajpayee: My prayers are with the people affected by the massive earthquake in nepal and india.saw a woman losing her mental balance due to the impact
Ameesha Patel: My prayers with all in Nepal . Hope the earthquake does not leave too many casualties. Prayers w Nepal
Soha Ali Khan: Praying for the people of Nepal who must have been affected by this terrible earthquake - very worrying images on the news.
Rannvijay Singha: My heart goes out to the people of Nepal, the earthquake was massive,7.9.. Also tremors felt in North India,be safe and alert
Madhur Bhandarkar: Prayers for the people of Nepal and India affected by the #earthquake. Hope everyone is safe and no major damages and casualties.
Ileana D'Cruz: Terrible news about the news of the earthquake in Nepal! My prayers to all the families injured in this horrible tragedy..