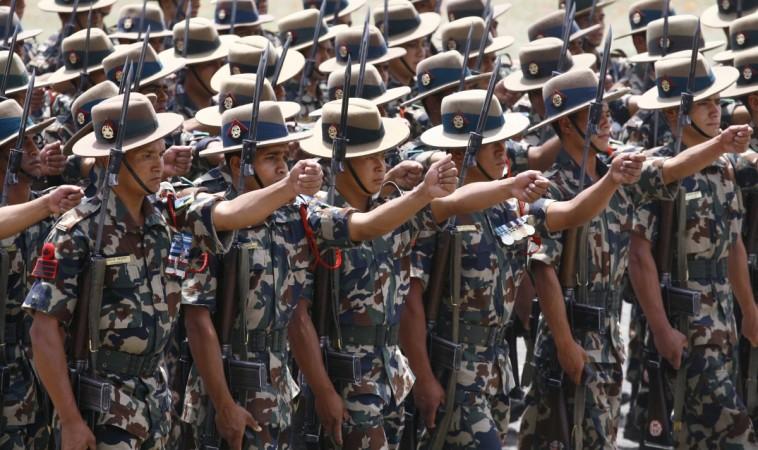 Much to India's annoyance, the Nepalese army is now going to participate in a military exercise with their Chinese counterparts later this month after Nepal pulled out of the Bay of Bengal Initiative for Multi-Sectoral Technical and Economic Cooperation (BIMSTEC) military exercise to be held in Pune, reports ToI.
Sagarmatha Friendship-2 will be the second joint exercise between the two countries and will be held from September 17 to 28 in Chengdu. The first exercise was held in April last year and the growing security cooperation between Nepal and China is causing concern for India.
According to reports, the Nepalese government isn't pleased by India's attempt to boost security and defence cooperation within BIMSTEC.
India is still sulking after Nepal withdrew at the last moment from BIMSTEC exercise even as an advanced team from the Nepalese army was already in India to prepare grounds for participation in the military drills.
Speaking to ToI, former foreign secretary Kanwal Sibal said it was unfortunate that Nepal derives satisfaction from provoking India needlessly. "By taking such steps, Nepal is alienating Indian opinion even more and it will feel the cost when the country faces a crisis and needs outside help. They have to nurture the relationship they have with India instead of creating distrust," Sibal said.
Though Nepal hasn't scaled up the exercise with China and just like last year it will send around 20 soldiers to participate in exercise, compared to participation of 300 soldiers in the Surya Kiran exercise with India, it won't help India's cause as Nepal Prime Minister KP Sharma Oli is seen as being pro-China.
The decision of Nepal to withdraw from the exercise has its roots in the BIMSTEC summit in Kathmandu in August, where Indian Prime Minister Narendra Modi welcomed the holding of the exercise.
Nepal is also pressurising India to unblock the South Asian Association for Regional Cooperation (SAARC) summit process after Oli took up the issue with Modi during his Delhi visit earlier in the year.
A Nepalese government official talking to ToI said India should stop treating BIMSTEC as an alternative to SAARC.