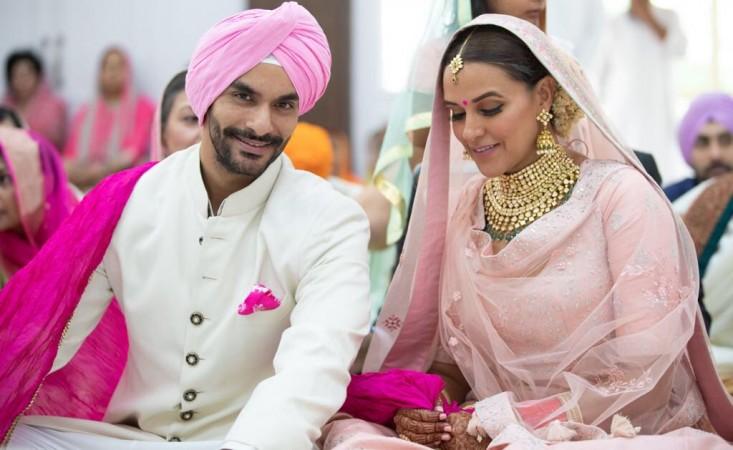 One person tried to troll Neha Dhupia on the basis of the age difference between her and Angad Bedi. However, the actress responded to him in her own swag.
After Neha Dhupia and Angad Bedi tied the knot in a private ceremony, the actress has been throwing some major PDA on Instagram for her hubby. She shared one picture of Angad, promoting one of his upcoming movies, and of course with a touch of love in the caption.
"A person with a heart of gold - meet Bikramjeet Singh aka Bikram in #Soorma, releasing on 13th July! #DontLetThisStoryPass ... congratulations team ... well done Mister ..@angadbedi [sic]," she wrote in the caption with a kissing emoji.
While most of her fans congratulated the couple and made positive comments, one user made a disgusting comment. Highlighting the fact that Angad is younger than Neha, the troll tried to mock her saying that she should have made him her brother and not husband.
Neha is not someone who would take such nonsense easily, and hence she responded to the troll with an epic reply. "thanks for the advise buddy! Now do me a favour... go get a life! [sic]," she replied. Meanwhile, many of Neha's fans started slamming the troll too.


Neha and Angad had surprised all with their sudden wedding. At a time when Sonam Kapoor and Anand Ahuja's grand marriage was making all the noise, their small private wedding had appeared a rather sweet one.
The couple had made their wedding announcement through a statement that read, "Marrying your best friend is one of the greatest feelings in the world, and we are extremely fortunate to have found love in each other. It has been a beautiful journey knowing each other and after formalizing the wedding earlier this year, today, we exchanged our vows in a beautifully simple, private and intimate Anand Karaj ceremony in Delhi. We look forward to celebrating and sharing this special moment with our friends and colleagues in Mumbai in the next couple of weeks. Thank you for showering us with so much love. Your blessings have truly made this day so much more special."