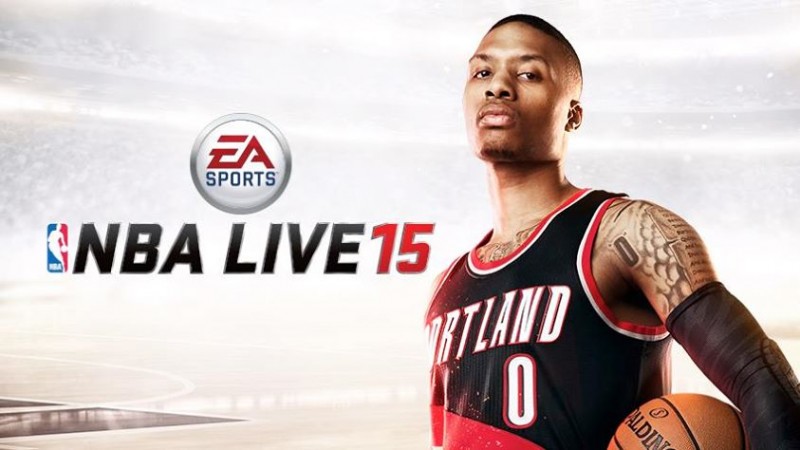 In continuation of the NBA Live franchise, EA's latest basketball simulation game, NBA Live 15 has been released and some of the reviews are out.
The game was developed by EA Tiburon and published by EA with Ignite engine powering it. NBA Live 15 was released to the US on 28 October and Europe release will be on 31 October. It will come only to the next generation consoles like PlayStation 4 and Xbox One.
The title suffered some delays in its release and EA had to push back the release date.
Damian Lillard of Portland Trail Blazers graces the cover of the game, which boasts of improved graphics in terms of arenas, jerseys and more. The company has also scanned 70% of the NBA players for NBA Live 15. It will include real-time physics and photo-realistic player models. EA has made controls related to passing, shooting and dribbling more responsive and the game will have a smarter AI logic and the transition will be smoother.
Players will also be able to participate in the Hot Spot Challenges that will allow them to replicate the moves within an hour after watching it live at the real NBA match. Players will be mentored by Lillard in the game's Learn Live. It will also have the Live Ultimate Team, which is a combination of NBA LIVE 15 and fantasy basketball.
Below are some of the roundups of reviews for NBA Live 15:
· IGN - 5.5/10
"Although NBA Live 15 looks significantly better than NBA Live 14 at a glance, it still suffers from clumsy controls and stiff animations. A few nice changes and additional game modes can't make up for poor gameplay, but there are some great ideas here that just don't get a chance to shine, like the pick & roll and the ESPN license. All in all, NBA Live doesn't feel as hopeless as it did a year ago, but hope doesn't make a good basketball game. Practice those fundamentals!"
· Polygon - 6/10
"Like an obstreperous child, NBA Live 15 is not bad, but it can be hard to love. Its real impact will have to be measured later, in the bar it sets for successive editions and whether they clear that. With no truly fair comparison to make, this is the last time NBA Live can claim credit for fulfilling basic obligations. But at least it no longer plays or looks like an experiment gone wrong."
· Bleacher Report - 6.6 /10
"Last year's game was cut more slack because it was debuting on next-gen consoles and we didn't have as many games that set the bar so high. Based on the sports games we've seen from the PlayStation 4 and Xbox One, we know more is possible."
"Strides have been made in NBA Live, but the game still lags behind from the standpoint of visuals and options. We can only hope future versions make more substantial improvements in the key areas."
· PlayStation Lifestyle - 8/10
"NBA Live 15 brings the franchise back onto the court with authority and takes the game successfully into the next generation of gaming. While the game isn't perfect, it is clearly ready to take on all comers and creates a firm foundation for EA to build upon for years to come."
· Digital Chumps - 7.4/10
"I like what Tiburon has done here and I think there is certainly enough entertainment to equal a healthy purchase. With that said, I still think the developers have some work to do to truly catch up with the good folks at 2K. I believe that Tiburon has certainly righted the NBA Live ship to get to that particular destination, but they will have to think about patching up some of the above holes to make the trip smooth."
Below is the gameplay video from NBA Live 15:
(YouTube Courtesy: BodyBag)
San Antonio Spurs vs Miami Heat Gameplay:
(YouTube Courtesy: XCageGame)
Below is the walkthrough video from NBA Live 15:
(YouTube Courtesy: MXE VIDEOS)
Below is the Visuals video of NBA Live 15:
(YouTube Courtesy: MXE VIDEOS)