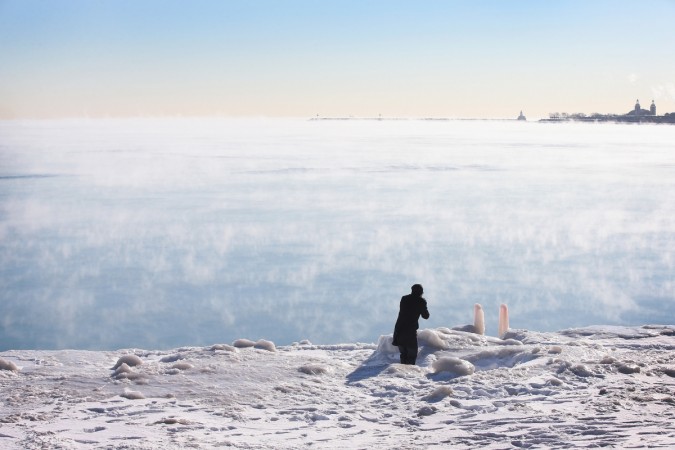 In a rare instance, an enormous amount of blue ice gathered at Michigan's upper and lower peninsulas. The ice on the shoreline of Great Lakes State in the United States has been painted blue. Many blocks of ice washed up the coast over the weekend, where Lake Michigan and Huron meet.
It is undoubtedly one of the spectacular sights to watch in winter. It attracted thousands of visitors from across Michigan including photographers and nature lovers.
Tori Burley, a photographer who lives in Mackinaw City, first heard the news from her father.
"When my dad texted me I couldn't wait to get back up there to see it and take photos," Burley told PEOPLE. "It was a last minute plan, but I was like a little kid, so excited and ecstatic to see, venture on and photograph it again."
"Every year it comes up, but it doesn't crash into the shore the way it seems to have this year," she told Newsweek.
Many people visited the place to see the big blocks of blue ice as they lined up along the shore. They were also seen climbing upon the mountains of ice, some of the blocks are over 30 feet tall.
RARE BLUE ICE IN MICHIGAN: it's stacking up to form mountains as high as 3-story buildings near the famous Mackinac Bridge between Lake Huron and Lake Michigan. Brrrrrrr! (pic by Tori Burley) pic.twitter.com/rnNHz1qHbm

— Christopher Lentz (@AuthorLentz) February 28, 2018
The frozen chunks get their blue hues because the shoreline where the two lakes meet has no bubbles.
The absence of bubbles makes the ice transparent, and when short-wavelength light enters it, the light is scattered through it and reflected back making the ice appear blue, explains George Leshkevich, a field scientist with the National Oceanic and Atmospheric Administration's Great Lakes Environmental Research Laboratory in Ann, according to a USA Today report.
"In deep, midlake water, where chlorophyll content is low, the reflection of the water can make the ice look even bluer," he said.
Take a look at the stunning pictures of blue eyes below.