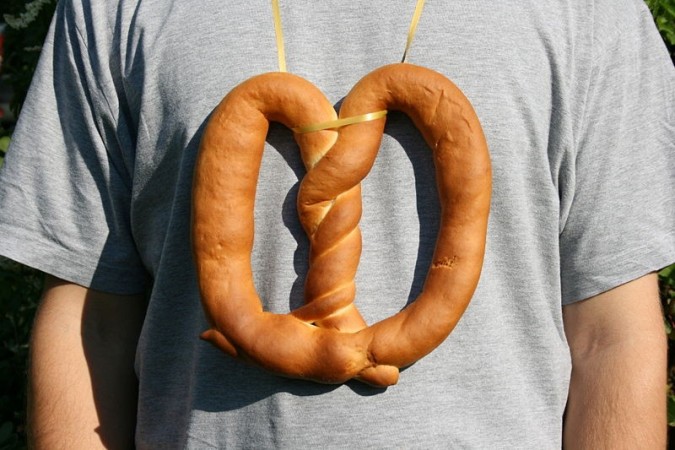 National Pretzel Day is an interesting informal holiday in the United States, which celebrates all the goodness and taste of pretzel, a type of baked bread product made from dough most commonly found in a unique knot-like shape, which is often claimed to represent folded hands in prayer.
Marking the Pretzel Day 2014, the Leukemia & Lymphoma Society (LLS) is taking part in a fund-raising event.
Pretzelmaker says that it's on a mission to give away 65,000 free pretzels on Saturday coinciding with the Pretzel Day. Customers will receive a free soft pretzels at locations nationwide, while they will be encouraged to make a donation of any amount to LLS.
Let us take a look at 6 most interesting facts about Pretzels including its history and origin
1. Pretzels' Origin: Most people agree that Pretzels' origin stems from Christian backgrounds and they were invented by Italian monks in the sixth century. It was apparently invented as a reward to children who learn their prayers, and the folded strips of the baked dough, is suppose to resemble arms crossing the chest in prayer.
2. American Pretzel: The birthplace of the American pretzel is thought to be the town of Lilitz, Pennsylvania, which supposedly came in the country from Germany, along with the Pennsylvania Deutsch, aka the Pennsylvania Dutch.
3. 'The Name 'Pretzel': It is said that the name 'pretzel' might have come from the German name 'Brezel' further derived from the Latin word 'bracellus', which is a medieval term for 'bracelet', or 'bracchiola' meaning "little arms".
4. Religious Significance: Within the Catholic Church, pretzels were regarded as having religious significance both for its shape and ingredients. It is said that Pretzels made using only flour and water could be eaten during Lent, when Christians are actually forbidden to eat eggs, lard, or dairy products. As time passed, pretzels began being associated with Lent and Easter. In the past, pretzels were hidden on Easter morning just as eggs are hidden today.
5. Soft Pretzels: For a long time, all pretzels were soft, but one legend says that one night a baker fell asleep while making a batch, and overcooked the pretzels, according to the website, Parade. By the morning he woke up, the pretzels were hard and crispy, much like the modern-day pretzel snack.
6. National Pretzel Day: This day to celebrate 'pretzel' came into being in 2003 when Pennsylvania Governor Ed Rendell declared April 26 "National Pretzel Day", apparently to acknowledge the importance of the pretzel to the state's history and economy.
[ED:VS]