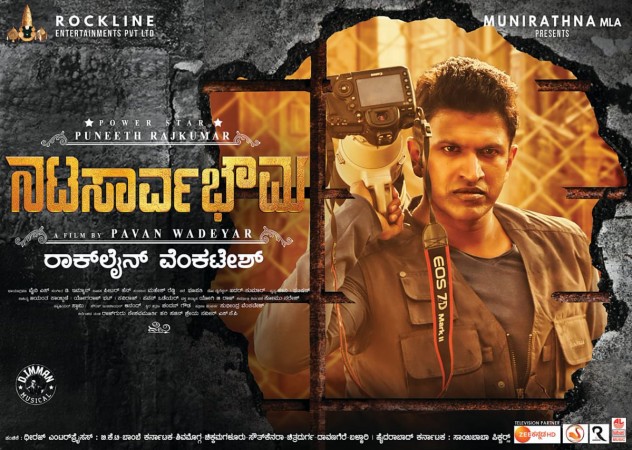 Puneeth Rajkumar's Nata Sarvabhouma had its first show at Prasanna theatre in Bengaluru at 10 pm on 6 February, a day before its formal release. The unprecedented hype around the movie forced the distributor screen it early, thereby cashing in on the craze around the Kannada film.
After Rana Vikrama, Pavan Wadeyar has collaborated with Puneeth Rajkumar again. While their first movie was an action movie, Nata Sarvabhouma is a family movie. However, the trailer has shown the the film has more than what the viewers had expected earlier. Read Natasaarvabhowma Official Review
It has built the curiosity around Puneeth Rajkumar's role and the film's genre. Well, the makers have not given any clue about it and want the viewers to find out in theatres. The movie has two good looking heroines in the form of Rachita Ram and Anupama Parameswaran, who is making her Sandalwood debut. Chikkanna, Sadhu Kokila, P Ravishankar, Saroja Devi and others are in the supporting roles.
The movie has D Imman's music. The title song and 'Open the bottle' songs have stuck the chord with youths, while 'Thaaja Samachara' has won the hearts of female audience. Vaidy S and Mahesh are the other important members of Pavan Wadeyar's technical team who have handled cinematography and editing departments, respectively.
Story and Analysis:
The movie tells the story of an investigative journalist Gagan Dixit (Puneeth Rajkumar), who comes to Bengaluru in search of a person. He exposes union minister Ghanshyam Yadav (P Ravi Shankar) for creating a fake abduction drama, but sooner or later they meet once again in a similar situation. This time, the hero seriously saves his life. The story turns interesting once it is revealed that Dixit has an issue to settle with the minister.
It is a revenge drama built around predictable and unpredictable twists. Pavan Wadeyar keeps the audience guessing whether the hero is possessed by a supernatural power or has a split personality.
Appu's screen presence and D Imman's background score are the major highlights of Nata Sarvabhouma.
Check out the audience's response to the Kannada movie:
Avinash avi mb: #Natasaarvabhowma movie is really superb...@PuneethRajkumar sir mindblowing acting dancing fighting..bgm extremely superb..@immancomposer...@PavanWadeyar direction is ultimate.. movie review rating 4.5/5 ...
Raghz89: #Natasaarvabhowma title is apt for powerstar #PuneethRajkumar he carries the entire film on his shoulders with his as usual Amazing performance and his Dances are a treat to watch and
@anupamahere's acting
Overall #Natasaarvabhowma Is a Wholesome entertainer for Appu fans
Ashraf Shisha: Neutral Review of 1st half of #Natasaarvabhowma :
Too much of commercial elements. Chikkanna is the Highlight. Horror element we all knew but is still interesting. Interval .
Overall decent so far. Onto 2nd half.
goutham appi7: Superb movie rachitha ram performance ✌️ punith sir acting
And most I loved in the movie @anupamahere & @PuneethRajkumar
Love sequence
@PavanWadeyar sir superb direction cast chosing awesome
4/5
VIRU: @PuneethRajkumar anna my friend new sketch how is this.I thick ur reply for this sketch. #Natasaarvabhowma A Superb Fantastic Wonderful Beauty Movie The BGM is OSSum. @anupamahere Superb Pair & @RachitaRamDQ OSSum Full of Entertainment,Comedy Dance With APPU Song.@PavanWadeyar
SHARAN: #Natasaarvabhowma watched fans show
#powerstar @PuneethRajkumar Appu as usaual Rocking powerful mind-blowing performance, movie is filled with all elements comedy, thriller, action everything.. this wood be the best entertainment movie of the year..!
Bgm.
Sathya Narayana R: #Natasaarvabhowma Typical Revenge Action Thriller. #Appu Sir Brilliant Acting... Must Watch.
#Natasaarvabhowma A Typical Revenge Story. @PuneethRajkumar Sir Outstanding Performance, Fights and Dance Next Level. Go Watch In Nearest Theatres. Super Worth Watch.
#Natasaarvabhowma What a performance of @PuneethRajkumar Sir. Next Level Action. – at Urvashi Cinemas
#Natasaarvabhowma @PuneethRajkumar Peak Performance. First Half Kicksass Brilliant Direction from Pawan. – at Urvashi Cinemas
NamCinema.com: .@anupamahere becomes the central attraction of the second half and holds the movie together as an one piece . Appu's dance in open the bottle makes everyone go crazy. Special mention to @immancomposer for his excellent BGM
#Natasaarvabhowma second half exceeds expectations and wraps up the movie as a good commercial entertainer. Imman's BGM ,Powerstar's performance and Anupama cute acts makes this a good watch
#Natasaarvabhowma has a fast paced , thrilling first half with the horror element maintained in a good manner . Powerstar's Dance and acting highlights along with Chikkanna's and Sadhu's comedy
cineloka.co.in: "Dance with Appu" Song is choreographed Brilliantly.
Fantastic Dance Moves by #PowerStarPuneethRajkumar
Interval. Entertaining First Half.
It is #PowerStar #PuneethRajkumar Show
Dialogues are good. Chikkanna Comedy
"Open The Bottle" - Kickass Dance Number. Appu is Brilliant
Superb Job by Johnny Master
@anupamahere episode was Beautiful Lovely Scenes. Appu at his best
#Natasaarvabhowma : Ends with a smart Twist.
Good Film by @PavanWadeyar
It is Appu Magic through out the Film.
Love Story episode is Awesome❤️
@anupamahere has a lovely role
Sadhu Kokila,Chikkanna Comedy scenes are good.
@immancomposer Music is pleasing.
Rating -3.75/5