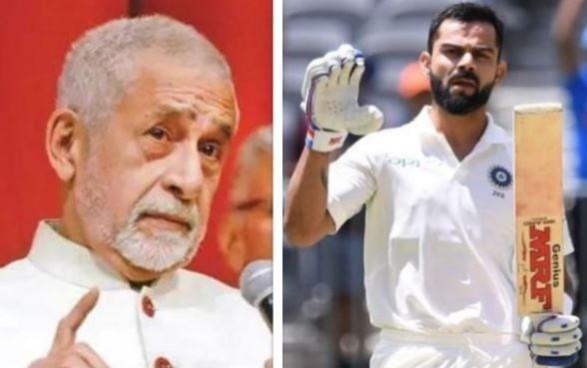 India's acting pride Naseeruddin Shah, who is constantly under the limelight for his acting brilliance and widely disputed stance on various fundamental topics, has once again courted a controversy by calling Virat Kohli 'world's best' batsmen but also 'world's worst behaved' batsman.
Naseer made this comment in light of Virat Kohli's comment made a few weeks prior asking fans to leave India if they don't like Indian players. Kohli had faced Twitterati's ire for his stance and now, even Naseeruddin Shah has joined the bandwagon and lashed out at Kohli in his social media post.
Naseeruddin Shah wrote on Facebook, "Virat K is not only the worlds best batsman but also the worlds worst behaved player. His cricketing brilliance pales beside his arrogance and bad manners. And I have no intention of leaving the country by the way (sic)."

The post has received mixed reactions from fans and followers of the cricketer and the actor. In an interview with Anupama Chopra, Anushka Sharma had said, "We both have that sense of normalcy. We both are same people except that I don't have so much aggression as him. Virat is emotionally active. Other than that we both are same people and need the same things from life. We are in a relationship that is 'normal'. We both don't want to become pawns. Our lives go on in our ways. It is hard for me when I stand at the stadium and Virat doesn't do well."
"I feel 'Oh shit, Have I done something wrong?'. Initially, it used to happen like that, but then, later on, I started directing the thoughts on the positive side. We both are very normal people and come from regular middle-class family and without any help from anybody in our respective industries, we have reached where we are today. So there is a lot of mutual respect between us," she had added.