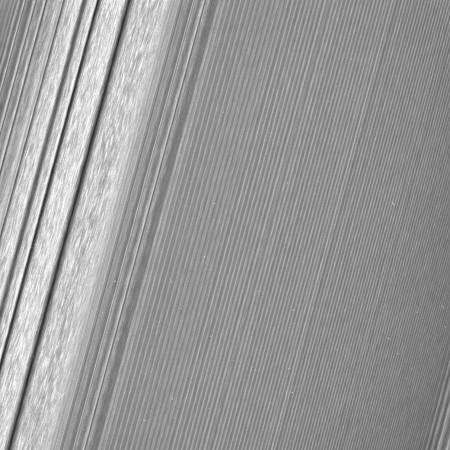 More new discoveries have been made by NASA's Cassini mission which are unprecedented!
Also Read: Earth just narrowly escaped being hit by an asteroid...AGAIN!
This gas-giant has millions of "moonlets" or small moons orbiting it and Cassini captured its most detailed images over a span of 13 years.
The Cassini spacecraft took the images from a distance of 550 metres (0.3 miles), capturing features that were never seen before.
These images showed features such as a 'double-arm propeller', which points towards the presence of tiny hidden moons in the planet's rings that are made up of ice, debris and rocks.
The moonlets, spotted by Cassini, are around 1 kilometer in diameter. The main features that the astronomers captured with the help of Cassini are "straws" and "propellers".
Density waves can be observed in Saturn's A ring, at a distance of 134,500 km (83574.42 miles). Straws refer to the density waves caused by the motion of massive bodies, also known as perturbations. Saturn's moons Janus and Epimetheus, which orbit the planet, generated these waves with their gravity.
Propellers, on the other hand, are caused by clumping ring particles and small, embedded moonlets, according to NASA.
Launched in 1997, it was in 2004 that the Cassini spacecraft arrived at Saturn, but the images available back then were not so detailed, compared to the images we have now.
The blemishes found in the images taken by the Cassini spacecraft were caused by radiation from charged particles and cosmic rays that prevail near the planet.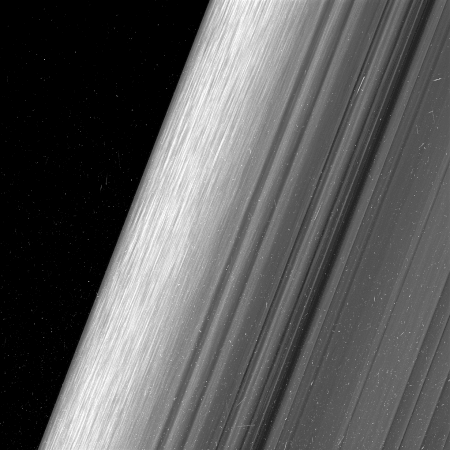 "As the person who planned those initial orbit-insertion ring images -- which remained our most detailed views of the rings for the past 13 years -- I am taken aback by how vastly improved are the details in this new collection," Cassini Imaging Team Lead Carolyn Porco, of Space Science Institute, Boulder, Colorado, told NASA.
"How fitting it is that we should go out with the best views of Saturn's rings we've ever collected, Porco added"
The spacecraft is there to analyse the planet's moons, rings and magnetosphere (the cavity formed by a planet's magnetic field in the solar wind).
So far, numerous significant discoveries have been made by Cassini, ranging from exploring the rings of Saturn and detecting oceans of liquid methane on Saturn's moon Titan, to another ocean with hydrothermal activity on the moon Enceladus.