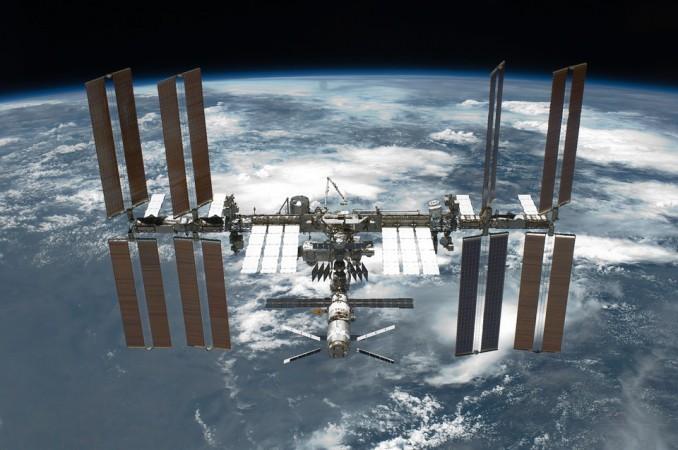 Recently three crew members of the Expedition 55 returned to Earth safely from the International Space Station (ISS) and NASA is all set to send the next crew to the floating anti-gravity laboratory. The new batch of crew members will be launched into the orbit from Kazakhstan on Wednesday, June 6. Here's the schedule:
Wednesday, June 6
6:15 a.m. – Soyuz MS-09 launch coverage (launch at 7:12 a.m.)
Friday, June 8
8:15 a.m. – Docking coverage (docking scheduled for 9:07 a.m.)
10:30 a.m. – Hatch opening and welcome coverage
Recently, the American space agency has shared a picture of the Soyuz MS-08 rocket being rolled out to the launch pad at the Baikonur Cosmodrome in Kazakhstan. This is the rocket that is slated to carry the crew members to the ISS.
Three Expedition-55 crew members -- NASA's astronaut Scott Tingle, astronaut Norishige Kanai from Japan and Russian Space Agency's Anton Shkaplerov, who was also the mission commander -- returned safely to Earth.
The mission of this trio lasted for 168 days, where they traveled 71.2 million miles and completed 2,688 orbits of our home planet.
Following the end of the Expedition 55, Roscosmos' Anton Shkaplerov has handed over the command of the ISS to NASA astronaut Andrew J. Feustel from Michigan.
The crew members for the Expedition 56 will include Roscosmos' Sergey Prokopyev, NASA's Serena Aunon-Chancellor and European Space Agency's Alexander Gerst. The Soyuz MS-08 rocket will carry the trio. The spacecraft is scheduled to be launched from Kazakhstan's Baikonur Cosmodrome on Wednesday, June 6.
It is expected that the journey will take two days and the Expedition 56 crew members will reach the International Space Station by Friday. Once they reach the floating laboratory, the members will "work on hundreds of experiments in biology, biotechnology, physical science and Earth science," said NASA in a statement.
Those interested can watch the launch of Soyuz MS-08 live as the space agency will broadcast it on its social media network, website as well as NASA TV at links given below.
https://twitter.com/Space_Station/status/1003686929282617344
https://www.youtube.com/watch?v=DSTH0RBUV6I
Research on ISS:
Owing to its anti-gravity space location, crew members spend their time for serious scientific operations on the orbiting laboratory.
For instance, recent investigation activated in Kibo module, studied atomization in microgravity to get an in-depth understanding of atomization, or the conversion of a substance into very fine particles or droplets, which may be useful in developing new plane and rocket engines.
The samples of blood, urine, and saliva samples are taken for a variety of investigations studying astronaut health on ISS. For old age problems such as stiffened arteries, it has been observed that some crew members returning from the space station have much stiffer arteries than when they went into space.
The Advanced Combustion Microgravity Experiment (ACME) conducted in the Combustion Integration Rack (CIR) help understand fuel efficiency and reduce pollutant production in practical combustion on Earth and to improve spacecraft fire prevention and study of materials flammability.
Other works include Crew Earth Observations, Probiotics, CEVIS, CIR/ACME, E-Fields Flame, CBEF, KUBIK, HDEV, Microbial Tracking-2, Tropical Cyclone, J-SSOD, Neuromapping, MVP, MISSE-FF, BEAM, J-SSOD, Food Acceptability, and Multi-Omics.