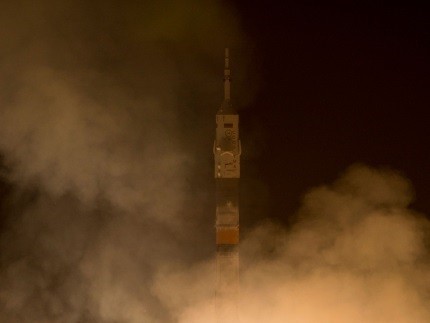 NASA television will air the arrival of the three crew members aboard the Soyuz TMA-12M capsule to the International Space Station on Thursday 27 March 7 pm EDT (11 pm GMT, Friday 28 March 4:30 am IST).
The astronauts - Steve Swanson of NASA, Soyuz Commander Alexander Skvortsov and Oleg Artemyev, flight engineer of the Russian Federal Space Agency (Roscosmos) - were launched on Tuesday at 5:17 pm from the Baikonur Cosmodrome, Kazakhstan.
While the three crew members in the Soyuz TMA-12M spacecraft were initially scheduled to dock with the space laboratory on the same day, the trio will now dock on Thursday 7:58 pm EDT (Friday 05:28 am IST) due to a delay caused by an engine burn. Officials believe the burn was missed because the Soyuz vehicle was not correctly orientated or was not in the right attitude at the time, according to preliminary reports.
The crew members are scheduled to float through the hatch and reach the space station at 10:40 pm EDT (28 March 02:40 am GMT, 08:10 am IST) and the NASA TV broadcast of the hatch begins at 10:15 pm EDT (28 March 02:15 am GMT, 07:45 am IST), when the three astronauts will be greeted by Expedition 39 crew Rick Mastracchio of NASA, cosmonaut Mikhail Tyurin and Japanese astronaut Koichi Wakata.
Where to Watch Live:
NASA TV will live stream Soyuz spacecraft dock with International Space Station. Check the visuals here:
Live streaming video by Ustream
Swanson, Skvortsov and Artemyev will stay aboard the space station until mid-September. Wakata, Mastracchio and Tyurin have been in the space station since November 2013 and will re-enter Earth on 14 May. At that time, Swanson will take command of the space station.