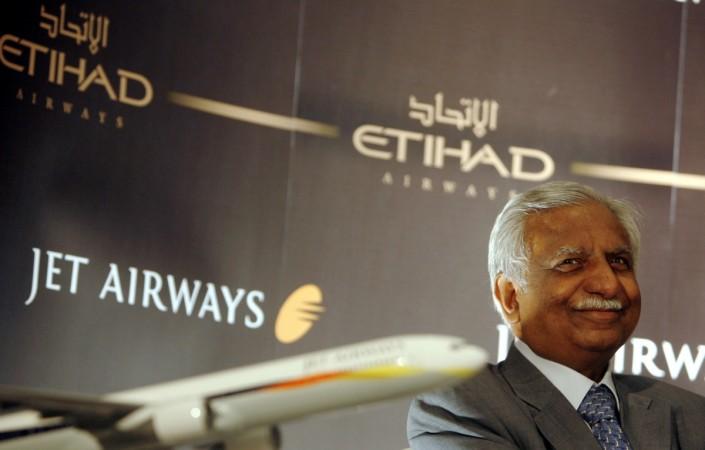 With leading domestic carrier Jet Airways lurching from one crisis to another, talks of its rescue are hinging on the potential exit of promoter Naresh Goyal.
There have been talks about suitors including Etihad Airways and the Tata Group making Goyal's future in the company a key pivot in the acquisition alks.
The Business Standard reported on Wednesday that a consortium of lenders led by State Bank of India are formulating a funding plan that doesn't see Goyal keeping his current position in the company.
The report says SBI could possibly convert its debt to equity in Jet Airways when the consortium recasts the Rs 8,000 crore debt. The discussions have apparently taken an ominous turn for iconic aviation entrepreneur Goyal, with even his position on the board becoming a negotiable matter.
According to a Mint report, the consortium of local banks led by SBI has proposed a $900 million package for the embattled airline, which includes fresh equity infusion and restructuring of $450 million of existing loans.
As per the plan, while Goyal and Etihad will funnel $450 million, the rest will be pooled in by the local consortium. The talks aim at finalising the turnaround plan this month so that the cash-strapped airline gets the funds before a March deadline set by the Reserve Bank of India (RBI).
Ongoing forensic audit
Earlier on Tuesday the Times of India reported that Jet's lenders would not release further funds until a forensic audit undertaken by Ernst and Young gives assurance on Jet Airways' business viability. All the three options before the lenders --Goyal selling his stake, starting of insolvency proceedings when the loans turn NPA and restructuring of loans, which changes the current equity structure -- will result in major setback for Goyal.
The debt-laden airline's crisis worsened last week when it defaulted on loan repayments to banks. "Payment of interest and principal installment due to the consortium of Indian Banks (led by State Bank of IndiaNSE 0.10 %) on December 31, 2018 has been delayed due to temporary cashflow mismatch," Jet Airways said in a regulatory filing on Wednesday.
India's biggest full service carrier, which posted three consecutive quarters of losses since March, has been looking for a suitor for some time. Etihad itself had emerged as a possible buyer earlier but Chairman Naresh Goyal's unwillingness to cede control had spoiled the merger prospects.
Jet Airways, which Goyal founded in 1993, is reeling under a debt pile of 81.5 billion rupees ($1.2 billion). Bloated costs, surging fuel prices and a weaker rupee are hurting Jet Airways. Peers such as SpiceJet and Indigo had reported impressive profits during the same period.
According to some reports in November, Goyal was considering pruning his equity stake in the company to as low as 15 percent in order to prevent the embattled airline going belly up. The report has emerged after a meeting Goyal had with Etihad group CEO Tony Douglas in Dubai.
Abu Dhabi's Etihad Airways has a 24 percent share in Jet Airways. Before Jet's troubles worsened, Etihad had reportedly shown interest in taking a controlling stake in the loss-making airline, but Goyal, who holds 51 percent, had declined the offer.