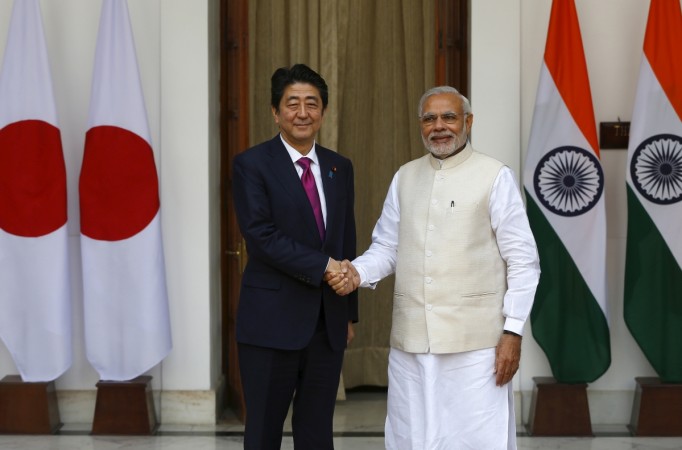 Prime Minister Narendra Modi reckons that India and Japan will "have to play" an important role in Asia's emergence. Currently, the PM is on a three-day visit to Japan.
In his speech at the CII-Keidanren Business Luncheon in Tokyo, PM Modi highlighted that Asia has emerged as a new centre of global growth due to competitive manufacturing and expanding market. Last year, the Indian economy grew faster than other major economies.
Talking about the two counties in particular, the Prime Minister said, "Strong India, strong Japan will also be a stabilising factor in Asia and the world." He also believes that Japan has emerged as the fourth largest source of Foreign Direct Investment (FDI) in various fields.
"Lower labour costs, large domestic market and macro-economic stability combine to make India a very attractive investment destination," PM Modi was quoted as saying by ANI. PM Modi also stressed on the fact that he wants to make India the most open economy in the world.
"Japan has an important role as India needs scale, speed and skill; involvement in our mega projects signifies scale and speed," the Prime Minister said.
Here are some of the key statements made by PM Modi:
FDI equity inflows have gone up by 52 percent in last two years. We have done substantial improvement on ease of doing business.
In two years, India is up by 32 places in global competitiveness index of world economic forum.
Combo of your (Japan's) hardware & our software is fantastic; Let's march forward & explore bigger potentials and brighter prospect.
During PM Modi's three day visit, India and Japan are likely to sign the civil nuclear deal as well.
"There is a possibility of more military exchanges between the two sides, which is likely to be mentioned in the joint statement. This comes close on the heels of Japan becoming a permanent member of the Malabar exercises with India and the US," government officials were quoted as saying by the Indian Express.
Additionally, the two countries may sign as many as 10 agreements on issues ranging from culture to skill development.