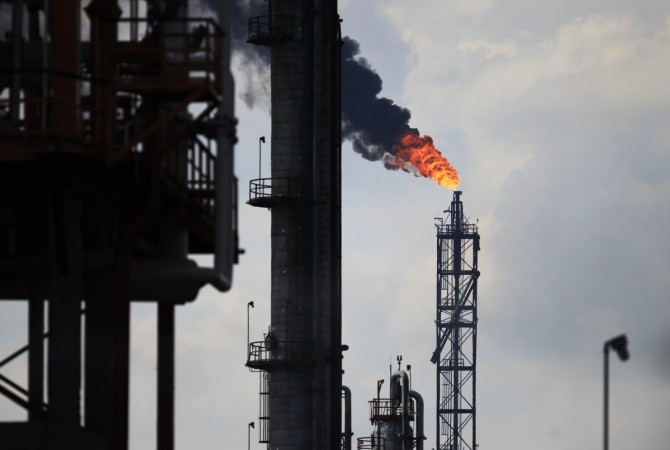 Prime Minister Narendra Modi on Sunday inaugurated the Rs 34,500-crore Paradip oil refinery in Odisha. With its ninth refinery, Indian Oil Corporation (IOC) has overtaken Reliance Industries to become India's number one refiner.
Built over a period of 16 years, the foundation stone for the Paradip Oil refinery was laid by ex-prime minister Atal Bihari Vajpayee on 24 May, 2000. The refinery is expected to produce 5.6 million tons per annum (mtpa) of diesel, 1.96 mtpa of kerosene and 3.79 mtpa of petrol. Apart from this, 790,000 tons of LPG would also be produced, an official was quoted as saying by Press Trust of India.
IOC's eight refineries reportedly have a cumulative capacity to process 54.2 million tons of crude oil. With the ninth refinery now in Paradip, IOC has overtaken Reliance Industries which has two refineries in the state of Gujarat with a cumulative capacity of 62 million tons.
"Building the refinery was a mammoth task, with 2.8 lakh tons of steel, equivalent to 30 Eiffel towers or about 350 Rajdhani trains, being used in construction. It has 11.6 lakh cubic metre of concreting, equivalent to three times the volume of Burj Khalifa in Dubai. Pipes running to 2,400 km have been used, which is almost the length of the river Ganga. A Mercedes-Benz S-Class car can pass through the largest-diameter pipeline of 126 inch," officials told Press Trust of India.
According to reports, the refinery had dispatched its first consignment of diesel, kerosene and LPG products on 22 November, 2015. At present, the Paradip refinery will produce petrol and diesel of BS-IV quality, but will later shift to BS-VI quality, which will comply with the auto-fuel policy.
A polypropylene plant is also reportedly under construction at a cost of Rs 3,150 crore. It is expected to be completed by 2017-18, the report added.