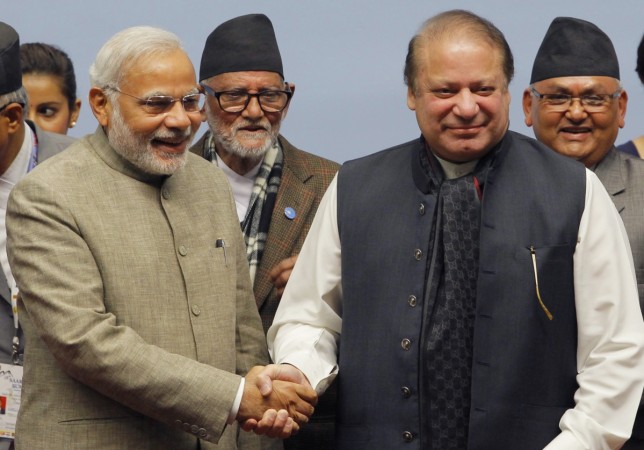 Prime Minister Narendra Modi completed three years in office on Friday, May 26. He had taken over as India's 14th prime minister on this day in 2014 after his BJP bagged an emphatic majority in the Lok Sabha elections that year.
As the leader of a nationalist party, people were always curious to see how Modi would deal with the Pakistan problem, all the more because of the leader's superman image that his party had cultivated and something India had not seen since the days of Indira Gandhi.
Also read: Modi has added a touch of flexibility to India's China policy
So, what has been Modi's performance against Pakistan in these three years? Did it deliver as per the expectations or it simply fell short?
To analyse Modi's Pakistan policy, we first need to keep in mind the fact that as the NDA's prime ministerial candidate, Modi had taken a moderate stand vis-a-vis Pakistan.
Also read: The hits and misses of Modi govt in first 3 years
During his rallies in the run-up to the general elections, Modi was seen talking more on lines of having better relations with Pakistan and not turning jingoist. Although he had pounced upon the previous UPA government over the border clashes and the killing and beheading of India's soldiers, he did not take an aggressive position on Islamabad. The thoughtful leader clearly wanted to keep the door on Pakistan ajar and not shut it at the very onset.
Chapter 1: Inviting Pak PM to oath-taking ceremony
Modi made his move on the very day he took oath as the PM by inviting, among other South Asian leaders and representatives, the premier of Pakistan – Nawaz Sharif. It was a notable beginning by an Indian prime minister when it came to a hostile neighbour. Modi wanted to give the Pakistan policy a fresh touch and not make it a prisoner of the past.
He did not keep the 1999 betrayal or the terror attack of 2008 in his mind and went ahead to invite Sharif, the same prime minister who had failed to reciprocate to Atal Behari Vajpayee's peace initiatives in the late 1990s.
Yet, things did not look promising
But despite Modi and Sharif exchanging pleasantries and also sari and shawl, the disturbed tale of the two countries continued. In July 2014, Pakistan indulged in a dozen ceasefire violations at the borders, reiterating the fact that the country's army was not happy with Sharif's bonhomie with Modi and that there little change in their outlook towards the arch-rivals.
In August 2014, New Delhi was in for more shock as the Pakistani high commissioner to India met Hurriyat leaders before engaging in talks with officials, ignoring India's pre-conditions. An enraged India cancelled the talks.
The Kathmandu experience was not a great one
Modi and Sharif met and shook hands in Kathmandu next, at the summit of the South Asian Association for Regional Cooperation (Saarc) but though there were no bilateral talks between the two prime ministers on the occasion; reports said they had a secret meeting on the sidelines, something which India denied.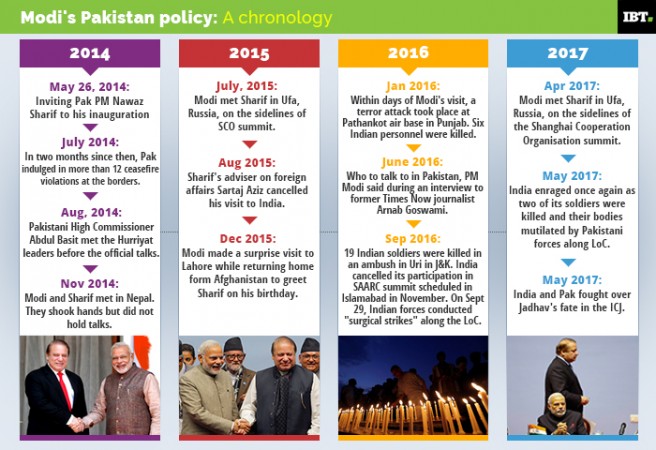 There was a visible difference in Pakistan's adamant stance on the second day as it softened its take on India's proposals. The summit somehow managed to save its face after the India-Pakistan standoff looked to jeopardise it but Modi's quest for peace with Islamabad was far from fulfilled. Modi's frustration was also visible in his speech made at the summit.
The year 2015 looked promising for Modi's Pak policy
The next big occasion for the two leaders meeting was Ufa in Russia on the sidelines of the Shanghai Cooperation Organisation. It was seen that the two premiers were still keen to improve the bilateral relations.
Modi, Sharif came close in Ufa
The Ufa talks were perhaps the best moments of Modi's Pakistan policy till now. He and Sharif agreed to discuss all outstanding issues between the two countries and jointly condemned terrorism.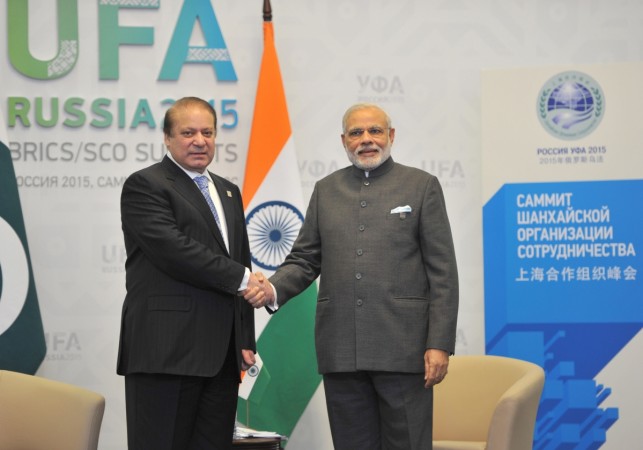 They also agreed that the two countries would conduct talks at the national security adviser (NSA) and director-general-levels. They also agreed to discuss means to accelerate the Mumbai terror attack case trial. Modi even accepted Sharif's invitation to attend the Saarc summit in Pakistan in 2016.
There was still a disruption in August 2015 as the then Pakistani NSA Sartaj Aziz met the Hurriyat leaders from Kashmir ahead of talks with his Indian NSA Ajit Doval, leading to the cancellation of the talks.
The PMs met again in Paris and then the NSAs met in Bangkok
The PMs entered the scene again as they met on the sidelines of the climate summit in Paris in November that year and felt that despite the odds, the two countries should not abandon the talks. Six days after the PMs met, Doval met new Pakistani NSA Nasser Khan Janjua at an unusual venue – Bangkok, which the two sides thought would remain away from public gaze and would be less noisy and more fruitful.
Soon after, Foreign Affairs Minister Sushma Swaraj paid a visit to Pakistan to attend the Heart of Asia Conference and said Modi would be visiting Pakistan in 2016.
Modi's surprise stopover in Lahore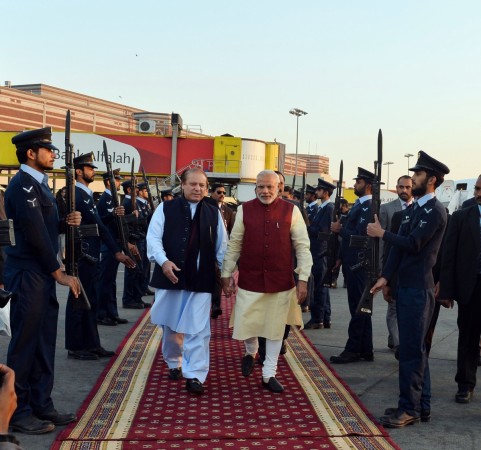 Modi winded up the year in an unprecedented way by paying a surprise visit to Lahore while returning from Afghanistan to personally wish Sharif on his birthday. It was a massive diplomatic coup by the Indian prime minister and things promised to be going up in India-Pakistan relations from that point of time.
The Pathankot attack marked beginning of chapter 2
But the hell broke loose in the new year as India faced a terror attack at its air force base in Pathankot, Punjab, in which six personnel were martyred. It was the first major offensive that Modi faced from Pakistan and marked the beginning of the next chapter in his Pakistan policy.
The attack left the Indian establishment and people livid but PM Modi did not give up on his peace initiatives yet. He agreed to a joint probe of the attack by the Indian and Pakistani sides. In March 2016, a joint investigation team from Pakistan visited Pathankot but to Modi's disappointment, submitted its report on returning saying the attack was staged by India to malign Pakistan.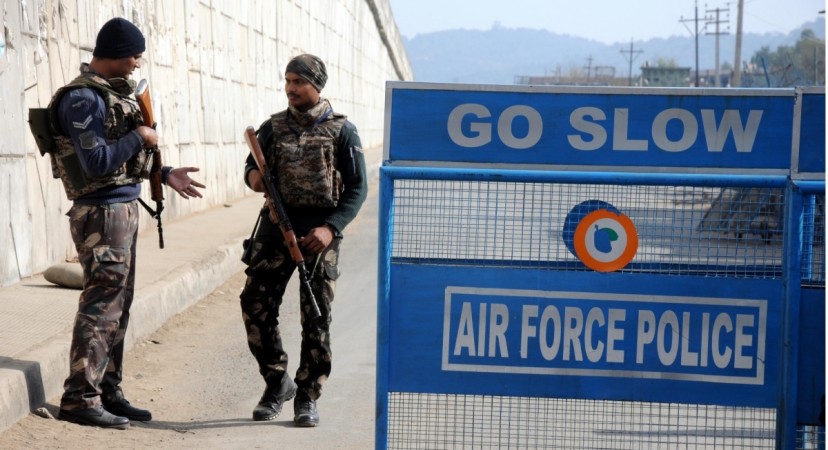 Hereafter, Modi shifted gears. From softness, he changed his stand into a hard one, understanding well that Pakistan would not change despite all his initiatives. Modi asked journalist Arnab Goswami in an interview: "Who to talk to in Pakistan?" The PM's disappointment was clear. There is nobody in control of things in the neighbouring country and backing the civilian government didn't earn India any benefit.
Modi, thereafter, raked up Pakistan's human rights record in areas like Balochistan province and Gilgit in Pak-occupied Kashmir. He even spoke on the issue in his Independence Day speech in 2016. He did this in the wake of the killing of Burhan Wani of the Hizbul Mujahideen on July and the consequent unrest in Kashmir.
Modi's strategy paid off as the dissident leaders in Balochistan province supported Modi, adding to Islamabad's headache. It had responded to Modi's speech by inviting India's Foreign Secretary S Jaishankar to Pakistan to engage in talks on Jammu & Kashmir. But since it came within the ambit of international resolution, India turned down the offer.
Chapter 3: The attack in Uri and the consequences
If the Pathankot attack had not completely disillusioned Modi, the dastardly attack on an army camp in Uri in Jammu & Kashmir in the wee hours of September 19 resulting in the death of 19 jawans did. It was the lowest point in the India-Pakistan relations under Modi's regime and the generated country-wide anger.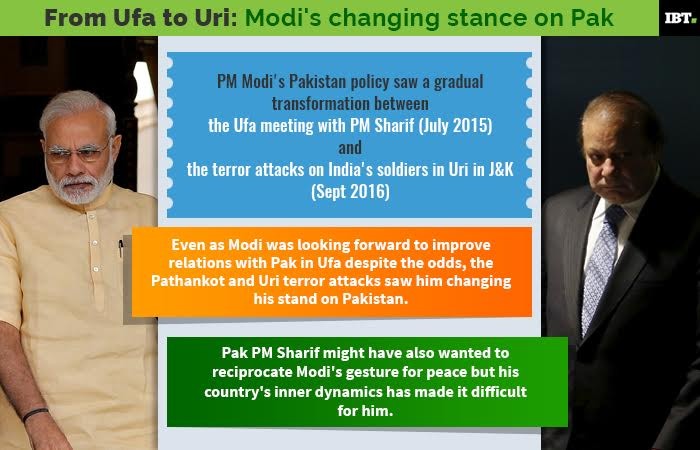 Other nationalist outfits also raised their voices and actors from Pakistan who were working in projects in India were told to go back. The Uri incident had seen India-Pakistan relations spilling over into the public sphere and the Indian government looking for ways to assuage the angry sentiments.
Surgical strikes, threat to turn off the taps
The Modi regime came up with a reply within a few weeks as the Indian Army claimed to have carried out surgical strikes across the Line of Control to demolish evil camps. The army openly communicated the step along with external affairs officials and it made the environment tense. India boycotted the same Saarc summit which Modi was to attend, along with four other countries, corner Pakistan more. PM Modi even threatened to stop the flow of water from the Sutlej, beas and Ravi into Pakistan under the Indus Water Treaty as a retaliatory measure.
In October 2016, India tried to rake up the Pakistan issue at the BRICS summit in Goa to corner Islamabad more though this step didn't achieve much for countries like Russia and China exhibited their reluctance to back India's ploy.
Mutilation of soldiers' bodies, Kulbhushan case... Indo-Pak relations show no signs of peace
The relation between India and Pakistan continues to witness more lows than highs since the Uri attack. In May 2017, India was terribly upset after Pakistani forces mutilated the bodies of two Indian jawans after killing them along the LoC. There were strong cries in India for a worthy retaliation.
Meanwhile, India and Pakistan locked horns at the International Court of Justice after the former challenged the latter's decision to execute an Indian man named Kulbhushan Jadhav who it accused to be a spy.
OVERALL, MODI HASN'T DONE BADLY ON PAKISTAN; BUT HE NEEDS TO ADDRESS J&K MORE
As things stand at the end of Modi's third anniversary in office, all is wild on the western front. The Opposition has accused the PM of not being able to devise a proper policy on Pakistan and lacking a direction.
But one cannot really blame Modi alone for this though the prime minister also needs to keep in mind that no effort will deliver the desired results as far as Pakistan is concerned till New Delhi manages its Kashmir problem. Till the time it is happening, Islamabad will only feel boosted to carry on with its aggressive stand.
PM Modi on Pakistan in first 3 years: Top takes

Modi has done all he could do to improve relations with Pakistan.
But since Pakistan is politically not a stable state with many power centres, Modi's efforts were destined to achieve little.
After trying friendly gestures, Modi shifted to a hard stance post Pathankot and Uri terror attacks.
Modi has tried to isolate Pakistan in the international community by getting closer to Iran and Afghanistan and also raking up the Baloch problem as a tit for tat policy.
Modi hasn't been able to stop Pakistan's atrocities against Indian soldiers at the borders although he has often blamed the previous UPA government over the same.
Also, relations, like claps, need a pair to contribute and until Pakistan's policy towards India undergoes a substantial change, one cannot really expect New Delhi to unilaterally improve things. Modi has still done better than his predecessor Manmohan Singh, who despite his personal willingness could not do much to break ice with Islamabad since his party did not allow him a free hand.
Modi has two more years to try out a deal with Pakistan which can make his legacy immortal. He will be hoping that Sharif returns to power even stronger after the elections of 2018. He made a great beginning and if he can at least take things where they were on May 26, 2014, it would be considered a fair success.