Prime Minister Narendra Modi, who completed three years in office on Friday, May 26, had two major foreign policy challenges at the time of taking over the reins from the previous Manmohan Singh regime, namely, Pakistan and China.
Modi began on a soft note while dealing with Pakistan but was forced to transform his stand following the terror attacks in Pathankot and Uri in 2016 but when it came to China, the prime minister blew hot and cold from the very beginning. And therein lied an innovation in India's China policy which has been mostly shrouded in defensive gestures.
Also read: The highs and lows of the Modi govt after 3 years
For China, Modi was never a stranger as the man had deep engagements with that country as the chief minister of Gujarat. Beijing congratulated Modi after his emphatic victory in 2014 and the latter also invited Chinese President Xi Jinping to visit India.
However, since Modi was no more a state's chief minister and with the Chinese, too, pursuing a nationalist project under Xinping's leadership to challenge the US-centric world order, things were bound to be different after Modi became the PM.
Also read: How has Modi's Pakistan policy delivered in his first three years?
But Modi tried to break the traditional deadlock with the Chinese leadership by trying something out of the box. He invited Jinping to Ahmedabad instead of New Delhi to improve a personal equation with the latter [Jinping reciprocated in 2015 by receiving Modi at his home town Xian]. For a leader who had a thriving business relation with the Chinese when the West had blacklisted him over human rights record, this was not an unexpected. Modi simply used the 'personal' to gain a mileage in the diplomatic.
Also read: How the Opposition has done in three years of Modi mania
Modi's soft skills when it came to China marked a departure from New Delhi's traditional stand on taking Beijing on a large-yet-defensive manner whereby rhetoric always outshone real progress on the ground.
India has two major challenges in dealing with China. One is its psychological blockade which has continued since the days of the humiliation of the 1962 war. India still cannot agree to the point that it can nurture a relation of complete cooperation with its giant neighbour. The second factor is China's support to Pakistan in all weather conditions and that has made India more paranoid.
The reality is China uses the India-Pakistan divide to its advantage of preventing the rise of a competitor in India but at the same time, China also doesn't treat India only as an enemy but a frenemy.
The two countries might be adversaries politically but economically, they have more to gain through cooperation. But India somehow doesn't find it comfortable to see the Chinese as an economic ally.
During Modi's 3 years, India has looked eye-to-eye with China
PM Modi, nevertheless, has taken a brave move by seeing the Chinese eye to eye in matters that are diplomatic and strategic, even by stoking the Dalai Lama controversy by allowing him to visit Arunachal Pradesh, the state which the Chinese refuse to see as an Indian territory.
He has tried to win the hearts of the small neighbours in South Asia like Nepal, Bangladesh, Maldives and Sri Lanka besides getting closer to Southeast Asian nations and joining hands with China's traditional enemy like Japan.
He has also visited African countries adjoining the Indian Ocean region as well as small country in the Asia-Pacific like Fiji and central Asian countries besides Mongolia – all aimed at growing a counterbalance to China's policy of encircling India. Modi's freshness lies in the fact that he did not hesitate to get closer to the US and its Asian allies to make New Delhi's strategic capacity strong while dealing with Beijing.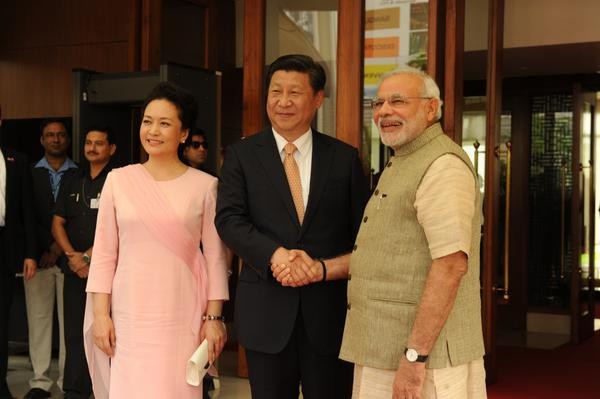 Modi also has engaged with China while diversifying India's foreign policy
But while diversifying India's foreign policy to corner China, Modi did not forget to improve trade relations with the Chinese and even making the country open for investments from that country.
The Chinese have done their bit by opposing India's quests on the international stage like by refusing to recognise Azhar Masood as a terrorist a number of times or blocking India's bid for a membership in the National Security Council but they did so more to maintain the lead over India. In other domains like economy and trade, Beijing knows how much important India is and all its warnings pertaining to issues like Tibet and the Dalai Lama are more hollow to rattle India.
Not joining OBOR summit was a blunder
The Modi regime, nevertheless, made an error by not joining the One Belt One Road summit in China despite the latter inviting India to join it, citing transgression of its sovereignty by the China-Pakistan Economic Corridor. Here, Modi could not really produce a unique thinking he is known for and allowed his country to lose an opportunity to use the multi-nation platform to present its viewpoints on the Chinese challenge. Even the US and most South Asian neighbours visited the summit.
India's China policy is a prisoner of the past and Modi inherited a paralysed legacy. Whether his government succeeds in dealing with China more meaningfully in the remaining two years will be determined by the degree of pragmatism it attaches to its China policy. Beijing has historically pursued pragmatic policy vis-à-vis Japan and the US despite having territorial and military clashes with them by seeking to benefit from them economically.
Can India shed its apprehension and follow the same?