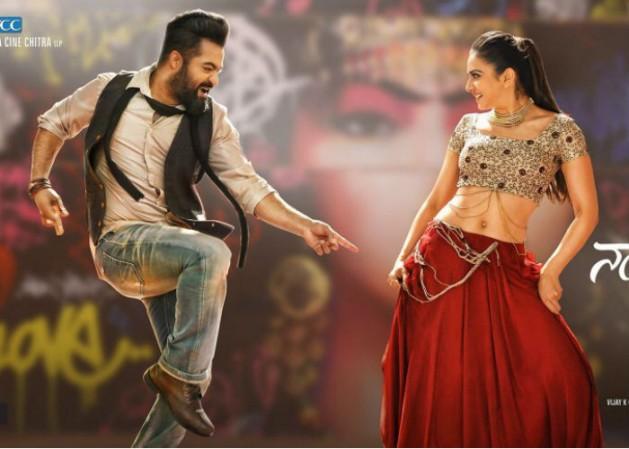 Director Sukumar's Telugu movie "Nannaku Prematho", starring Junior NTR and Rakul Preet Singh, has received positive reviews from the audience across the globe.
Reviews: Dictator | Express Raja | Nannaku Prematho Box Office Collection

Nannaku Prematho is a family entertainer that deals with a father-son sentimental relationship, and is high on action quotient. Abhiram is an NRI based in London, and his father hails from a high-profile family in Palnadu. Abhi sets out to take revenge on his father's enemies when he comes to know his father has been denied justice. What happens next forms the crux of the story.
Photos: Pawan Kalyan's Sardaar Gabbar Singh new posters released
The audience says "Nannaku Prematho" is a simple and routine revenge drama film, which is high on emotion. But Sukumar's intelligent screenplay makes the film an interesting watch. The first half of the movie has been shot in the UK, and some romance and comedy keeps viewers engaged. The story shifts to Palanadu in the second half, which has some high-voltage action and sentimental scenes.
See: Nannaku Prematho Stills | Audio Launch Photos | Jr Ntr fans Hungama

Junior NTR has delivered a wonderful performance as an NRI in "Nannaku Prematho". His stylish looks, action, dance and dialogue delivery are the highlights of the film. Rakul's glamour and chemistry with NTR are also its big assets. Rajendra Prasad, Jagapathi Babu and Sithara have also delivered superb performances, say the audience.
Read: Nannaku Prematho kills Killing Veerappan
"Nannaku Prematho" has rich production values. Sukumar's engrossing screenplay, Devi Sri Prasad's songs and background score, Vijay C Chakravarthy's amazing camera work, wonderful choreography of action and dance and exotic locales are other big attractions in the technical front. The dragging narration in some parts in the second half is a big drawback of the film, says the audience.
Many viewers took to Twitter to share their verdict on the film. We bring you some unique comments. Here is the live update of the "Nannaku Prematho" movie review by the audience:
Idlebrain jeevi ‏@idlebrainjeevi
#NannakuPrematho interval now. Most trendy and intelligent film made by Sukumar so far. NTR amazes with transformation. Enjoyed so far! #NannakuPrematho is a daring film. Sukumar makes this daring film work with superb screenplay and magical moments. After showing his viswaroopam in Temper, NTR shows the other side with equal panache! A suave & amazingly stylish NTR in #NannakuPrematho
RJV ‏@RJV4U
#NannakuPrematho ... Ok good 1st half..Fully calculative screenplay by Sukumar ..Pre interval episode is good #NannakuPrematho ... last 30 mins was damm good..NTR excelled..Scenes wise good ...Definitely worth a watch...Suku'Mark entertainer Pure A center stuff..Need to see how long will the momentum go on
Ramesh ‏@rameshlaus
#NannakuPrematho [3.25/5]: A Classy Revenge Drama that is intelligently written.. Ably supported by Top notch acting, great visuals & music #NannakuPrematho [3.25/5]: #NTR rocks.. Stylish Looks.. Emotional Actin.. Gr8 Dancing (A Treat 2 watch).. Excels in Action & Dialog delivery #NannakuPrematho [3.25/5]: @Rakulpreet looks gorgeous and acts very well.. She is very much part of the narrative.. Kudos for dubbing.. #NannakuPrematho [3.25/5]: @IamJagguBhai as the suave villain excels in a powerful role.. #RajendraPrasad & other Actors do their job neatly #NannakuPrematho [3.25/5]: @ThisIsDSP songs flow with the movie.. Very peppy & visuals enhance them.. DOP #VijayC has nicely captured London
YATHI™ ‏@ursyathi
Title cards superb, excellent work #NannakuPrematho 1st half done, pre intervel 10mins good. waiting for 2nd half. Ok, 2nd half started #NannakuPrematho Tarak excellent performance in climax, #NannakuPrematho #Nannakuprematho - An @aryasukku Film.
Shreyas Srinivas ‏@shreyasmedia
#NannakuPrematho NTR amazes with transformation. #NannakuPrematho - NTR Performance+Sukumar Screenplay magic+Production values = Perfect Sankranthi Gift for Telugu Audience..
Shaandaar shanatic ‏@KevinKishore2
#Nannakupremathohungama One word= OUTSTANDING!! Now one can convey emotions with creativity like sukumar. No one can beat his creativity! #Nannakupremathohungama If NTR is the body,sukumar is soul and @ThisIsDSP is heart! Purely Epic! Sukumar surely make Telugu movie #Proud!
Satishkumarullaganti ‏@usatishkumar
Just done with #NannakuPrematho Settled first half and racy second half Stunned with d last 45 min of run Only Mathematician turned director @aryasukku could do this magic with his screenplay on d screen @aryasukku is a Nolan of Indian cinema In one word its a simple revenge drama expelled in an intelligence manner Another intelligence epic by @aryasukku kudoos #NannakuPrematho
Chithram ‏@telugumovietime
#NannakuPrematho superbly narrated revenge drama with the finest&terrific performance by Tarak.What a transformation #NTR #NannakuPrematho NTR proved the point loud dialogues / thigh slaps not required to deliver a brilliant performance #NannakuPrematho @IamJagguBhai Iis class apart;top notch acting; @Rakulpreet just awesome;surprised with flawless dubbing #NannakuPrematho @aryasukku just nailed it with intelligent direction & screenplay, esp2ndhalf! @ThisIsDSP BGM is the soul Rating 3.5/5
PVP ‏@iam__praneeth
A classic in @tarak9999 & @aryasukku career 2nd half mind games,preclimax & climax superbbb Ntr performance #NannakuPrematho
Yashwanth Aluru ‏@aluruyashwanth
#NannakuPrematho is an EMOTIONAL roller coaster ride with @aryasukku 's mark intelligence, creativity and craziness... It's surprising to see a Less bloodshed and a Hollywood style taking which was never seen in @tarak9999 's films #NannakuPrematho
Cinema Pichhodu ‏@Cinema_Pichhodu
Done with #NannakuPrematho first half Pure class movie Mass elements assalu levu No comedy #NannakuPremathoHungama Interval scene between Jr and Jagapathi is awesome #NannakuPrematho Overall ga first half just average #NannakuPrematho
Rohit Venkatraman ‏@RohitvNiranjan
#NannakuPrematho @NannakuPrematho excellent 1st half ..sukumarked totally & #Ntr at his stylish best #NannakuPrematho yet another outstanding film from @aryasukku & @tarak9999 did complete justice to it .would rate their best script 3.75/5
Hearthstone ‏@readhearthstone
Decent first half and mind gaming 2nd half.. Please don't go to watch NTR movie, it's a sukumar movie.. Don't expect massy #NannakuPrematho
Mahesh S Koneru ‏@smkoneru
#NannakuPrematho - A film that @tarak9999 can be proud of. A film that shows why NTR is the most gifted actor of his generation.