Here are the live updates of Nandamuri Harikrishna funeral procession - last journey:
4.15 pm: Jr NTR and Kalyan Ram completed the last rites of their father Nandamuri Harikrishna. The police personnel offered him the state honour, by saluting him and firing three rounds in the air.
3.50 pm: Nandamuri Balakrishna is seen bring his brother Harikrishna's body with Chief Minister Chandrababu Naidu to the place, where his cremation will take place. Jr NTR can't stop tears rolling down his cheeks, as he performs his father's cremation with his brother Kalyan Ram. Many MLAs, MPs, Ministers and political leaders, who are present on the site, pay their last respects to him.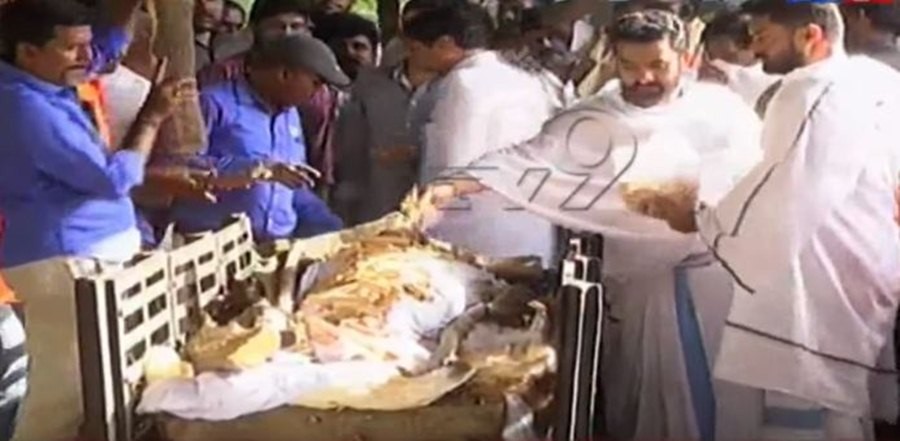 3.40 pm: Jr NTR and Kalyan Ram are set to perform the last rites of their father Nandamuri Harikrishna as per Hindu tradition. Chandrababu Naidu, who travelled in a private vehicle due to security reasons, has joined them in the TDP leader's cremation Mahaprasthanam.
3.30 pm: Nandamuri fans are allowed to enter the first gate of Mahaprasthanam and they are allowed to enter its second gate. There is a special tent erected in Mahaprasthanam, where VIPs can sit and watch Harikrishna's last rites. All the top police officers have gathered at the gate for a special reception, as the funeral procession nears the site.
3.00 pm: Nandamuri Harikrishna's cremation is held as per Hindu traditions and the Telangana government helped his family make arrangements for his final rites at Mahaprasthanam in Jubilee Hills. His funeral procession has reportedly reached Toli Chowk and crossed almost half the way to the site.
2.20 pm: The procession vehicle carrying Nandamuri Harikrishna's body has finally hit the road. His fans and followers are making their last attempt to take a last glimpse at him. But they are apparently upset as his face is not visible due to the people in the vehicle. The police are forcing them out of the way to make a way for the vehicle.
Nandamuri Harikrishna funeral pictures are here:
2.00 pm: Nandamuri Harikrishna's final journey has begun, as his family brought his mortal remains outside his residence and kept in the vehicle decorated with flowers. Andhra Pradesh Chief Minister Chandrababu Naidu was seen carrying his body with former Supreme Court judge Jasti Chelameswar and others, while Jr NTR and Kalyan Ram led the procession.
12.30 pm: Thousands of Nandamuri fans have gathered near Harikrishna's residence in Mehdipatnam and they are desperately waiting to have the last glimpse at their favourite actor. But they are not allowed to enter his house, as the entry is restricted to only for VIPs. The police are having a tough time in controlling the fans. They are trying hard to clear the way for his last journey, which will start at 2.00 pm.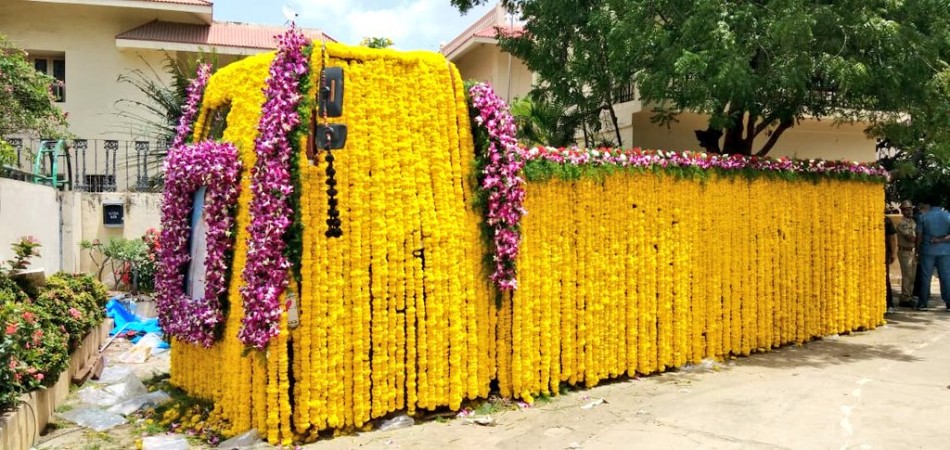 12.00 pm: BJP leader M Venkaiah Naidu, the Vice-President of India, visited Nandamuri Harikrishna's residence to pay him the last respects. Talking to media, he said, "Harikrishna is an ideal son of former AP Chief Minister NTR, who took to the name of Telugu community to national and international level. It is unfortunate that he died in an accident. May his soul rest in peace."
11.45 am: Pawan Kalyan, Superstar Krishna, SS Rajamouli, MM Keeravani, Krish and few other celebs visited his house on Thursday morning and paid their last respects to Nandamuri Harikrishna.
The Hyderabad traffic police said that the funeral procession of Nandamuri Harikrishna would start at 2.00 pm on Wednesday and reach Mahaprasthanam at Jubilee Hills at around 4.00 pm. The funeral is expected to be completed at the same venue by 6 pm. His last journey would pass through areas like Masab Tank, Mehidipatnam, Nanalanagar X Road, Tolichowki, Narayanamma College and Whisper Valley T junction.
A large gathering of fans, relatives, celebrities, MLAs/MPs and VIPs and cabinet ministers of both the Telugu states will participate in Harikrishna funeral. "The public is advised to take alternative routes from 2 pm to 6 pm from Masab Tank to Mahaprasthanam, Jubilee Hills road. The public is also advised to avoid Whisper Valley and Nyaya Vihar Road towards Film City and Jubilee Hills," the police stated.
7.50 pm: Chiranjeevi, Ram Charan, VV Vinayak, Narayanamurthy, Puri Jagannadh, Koratala Siva and many other Tollywood celebs visited Harikrishna's residence and paid him last respect on Tuesday. Talking to media, they praised his soft nature and outspoken nature.

5.05 pm: After paying tributes to him, KTR aka KT Ramaroa addressed media and said, "Harikrishna passed away in a road accident this morning. Chief Minister KCR paid his last respect to him just a while ago and announced that his funeral will be held with all-state honours. After discussing with his family, it was decided that his cremation will be held in Mahaprasthanam between 3.00 to 5.00 pm tomorrow."
KTR added, "Our officials have already been there at Mahaprasthanam. We have also informed the Police Commissioner to make all the arrangements to provide a chance to all his fans to have his last Darshan. All the measures are being taken for the safety of everyone. His last rites will be held with all state and national respects. I would like to offer heartfelt condolences to Jr NTR, Kalyan and Nandamuri family."
Nandamuri Harikrishna gari final rites will be held at Mahaprasthanam tomorrow (30th August) . Procession will start from his house in Masab Tank from 2:30 pm pic.twitter.com/Tp22nU6enn

— VamsiShekar (@UrsVamsiShekar) August 29, 2018
4.30 pm: It was rumoured that Nandamuri family has decided to perform Harikrishna's last rites at his farmhouse near Moinabad tomorrow August 30. The family is reportedly making all the arrangements in the open land of this farm, which was most loved by the late actor.
4.00 pm: Victory Venkatesh is seen arriving at Nandamuri Harikrishna's residence. He offered condolences to Jr NTR, Kalyan Ram and their family.

3.00 pm: ESL Narasimhan, the Governor Andhra Pradesh and Telangana, visited Nandamuri Harikrishna's residence and offered condolences to his family members. Addressing the media, he said, "It's been my misfortune. This is my second time to enter this house to offer condolences. He was such a soft hearted man and we miss Harikrishna garu today. May his soul rest in peace."

2.45 pm: Telangana Chief Minister K Chandrasekhar Rao is one among them and he paid his last respects to him. He hugged Jr NTR and offered his condolences to a young tiger. He spoke to Andhra Pradesh Chief Minister and got details about the accident. Meanwhile, he assured all the support for the funeral of Nandamuri Harikrishna.
2.30 pm: Nandamuri Harikrishna's body has been kept at his Mehdipatnam residence for the last darshan. Many leaders from various political parties visited his house and paid their tributes to him.
2.15 pm: Jr NTR's wife Lakshmi Pranathi and mother Shalini, Chandrababu Naidu, Nara Lokesh, Balakrishna and his daughter Brahmani, Purandeshwari and other family members arrived at Harikrishna's residence.
2.00 pm: After the post-mortem, Nandamuri Harikrishna's mortal remains have finally been brought to his residence in Mehdipatnam, Hyderabad. Jr NTR and Kalyan Ram are seen taking out his body from the ambulance. Thousands of fans, friends and family members are gathered at his residence. Rare and unseen pics of Nandamuri Harikrishna.
1.00 pm: Nandamuri Harikrishna's funeral is reportedly performed in his farmhouse, where his son Janakiram's last rites were performed.
12.00 pm: Telangana Chief Minister K Chandrasekhar Rao expressed grief over the death of former MP Nandamuri Harikrishna. He has reportedly asked the officials to extend all necessary support for the funeral of the actor.
Read: Interesting facts you need to know about Harikrishna
11.00 am: Nandamuri Harikrishna's mortal remains are being brought to Hyderabad, where his body will be kept for last darshan of his fans, TDP party members and personalities from the Telugu film industry.
10.30 am: Andhra Pradesh Chief Minister N Chandrababu Naidu was shocked to hear the news about his brother-in-law Harikrishna's death. He immediately visited the Narkatpally Kamineni Hospital.
10.00 am: Manoj Kumar Manchu requested media to stop showing his post-accident visuals. He tweeted, "Request the media to stop telecasting #HariKrishna garu's post accident visuals..It's disheartening for his family & followers to witness their loved one in such an unexpected way..He belongs to all of us! Pls show some respectHope u oblige our request.Tq #RIPHarikrishnaGaru"
Photos: NTR's son Harikrishna dies in road mishap near Nalgonda
9.30 am: There is an unannounced holiday in Telugu film industry, as many shocked Tollywood celebs kept aside their filmy activities to pay last respect to Nandamuri Harikrishna. The makers of Shailaja Reddy Alludu had announced to release its trailer this morning, but they postpone it as a mark of respect.
8.30 am: The news about Nandamuri Harikrishna's death came as a rude shock for the people in the Telugu film industry, who were waking up to celebrate Akkineni Nagarjuna's birthday. Many celebs took to Twitter to express their shock and sadness over his sudden demise.
Read: Mahesh Babu, Allu Arjun, other celebs mourn Harikrishna's death
8.15 am: Nandamuri Balakrishna, who was shocked to hear the news, visited the hospital and took a look his mortal remains of his brother.
8.00 am: Nandamuri Harikrishna's sons Jr NTR and Kalyan Ram, who were shocked to hear about the accident, reached the hospital within no time, but only to see their dead father. It was a great shock and a loss for the brothers.
Actor-turned-politician Nandamuri Harikrishna, the son of former Andhra Pradesh Chief Minister NT Rama Rao, died in a road accident in Nalgonda, 100 km from Hyderabad in Telangana.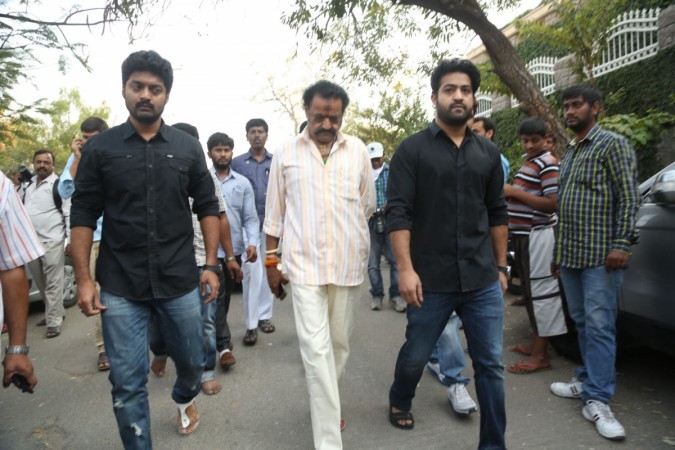 The accident took place at around 6:30 am when Nandamuri Harikrishna was on his way to attend a wedding in Nellore. The actor was reportedly driving his SUV, a Toyota Fortuner, at a high speed, when his car hit a divider and flipped, landing on its side.
The police say that he was driving at a speed of up to 150 km per hour as he wanted to make it to the wedding by 9 am. The SUV also hit another car, a Maruti Suzuki Dzire. Three others in the car with Harikrishna survived with injuries. He was rushed to the nearby hospital in a critical condition. He succumbed to head injuries at around 7:30 am.
"After crossing Chityal near Narketpally, he was driving it on Guntur highway. Opposite to the 12th Battalion grounds of police, he lost control over the vehicle after which it hit the road divider. At the time of the accident, the car's speed was said to be at around 160 km per hour. The road was also slippery due to rains. After crashing into the divider, the it collided with another car coming from Guntur side," the Times of India quoted his aid Ranganath as saying.