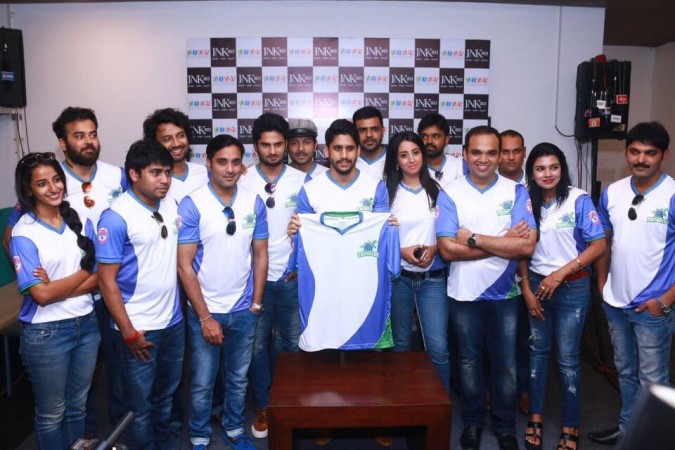 Telugu actor Naga Chaitanya, who is waiting for the release of Premam, says that he is excited to be the brand ambassador of Tollywood Thunders, one of the teams of Celebrity Badminton League (CBL).
Puri Connects, a Talent Management Company, has announced that Naga Chaitanya was signed as the brand ambassador of Tollywood Thunders on 11 September. A tweet on its Twitter handle read: "Happy to have @chay_akkineni as brand ambassador for #CBL #TollywoodThunders.Let's hit it #puriconnects 's talent."
Naga Chaitanya unveiled the jersey of Tollywood Thunders at the launch of the first season of CBL in Chennai on 17 September. Later, he posted a photo on his Twitter handle and wrote: "Thank you chennai..supertime at the #CBL launch looking forward to this season @Hem_chandran @PuriConnects.
Talking to a daily, Naga Chaitanya revealed his excitement over his new role as the brand ambassador of the CBL. "Badminton is something I am very close to and it is the first time I have got an opportunity to be associated with a sports league," he told Deccan Chronicle.
"I am really excited! I play the sport often, but not as good as a professional. My game is very casual, just like how we play with friends," he added.
Meanwhile, Naga Chaitanya praised PV Sindhu for winning the silver medal at the Rio Olympics. "Indeed, she has put Indian athletes on the global map. It has worked to our advantage for the CBL, as people are more familiar with badminton, and the curiosity has definitely gone up. She is someone India should be proud of," the actor added.
CBL is providing a platform to the celebrities of competence to encourage sports. The first season of the CBL features teams from the south Indian film industries - Chennai Rockers, Karnataka Alps, Kerala Royals and Tollywood Thunders. The inaugural match of Season 1 will be played at Regional Sports Centre in Kochi on 24 September.