A mysterious object spotted circling in the UK sky, which was earlier believed to be a luminous UFO, has now been revealed to be a stunt plane belonging to AeroSPARX, an aerobatic team that regularly brighten up airshows across Europe!
Also Read: Weirdly behaving UFO spotted at Texas border [VIDEO]
The 'bizarre flying object' was first reported by Somerset Live, which revealed that the incident took place in Cley Hill near the town of Frome.
The town of Warminster, which is located near Forme, was also described as a UFO hotspot by Somerset Live. The person who recorded the video had stated that the object had been witnessed a couple of times in the region.
The object had left numerous UFOlogists and alien hunters baffled because of the never seen before appearance and the radiance.
You can check out the footage of the mysterious UFO here:
"(It's) probably a drone with a fancy flame effect tail or something. It's been spotted a few times locally," the person who captured the video told Somerset Live.
However, an online community -- Sky Watchers – that analyses clips of UFOs across the world finally solved the mystery behind the illuminating object circling in the sky.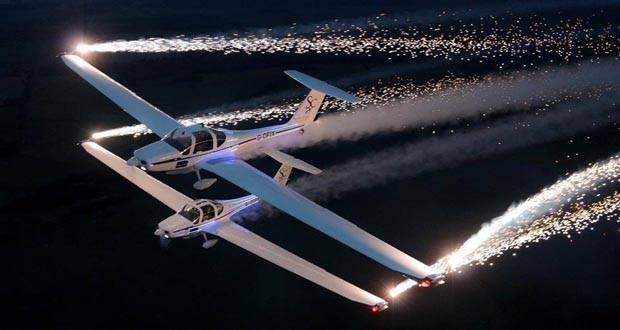 They found that the so-called 'UFO' was actually a stunt plane belonging to AeroSPARX.
According to AeroSPARX, their evening displays have wingtip pyrotechnics and the best LED light show in the business.
"The Grob is unique amongst airshow types, as it has a special clearance to fly at night. Pyrotechnics are quite unique and special in the half-light of twilight, but at night they really come alive and you can truly appreciate their majestic nature," AeroSPARX said.