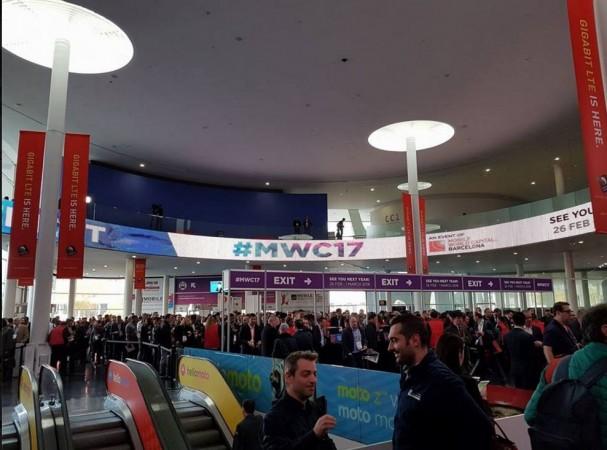 Despite the absence of Samsung's Galaxy S8 series, the four-day Mobile World Congress (MWC) 2017 turned out be a very successful event, thanks to HMD Global Oy, who chose Barcelona to re-introduce the former mobile pioneer Nokia brand to the international markets.
Besides Nokia, several high profile smartphone-makers such as LG, BlackBerry (in collaboration with TCL), Lenovo, Sony and Huawei showcased new line of feature-rich handsets ranging from high-end to entry level categories.
To provide better perspective, we have come up with a list of top smartphone brands that made headlines at MWC 2017.
HMD Global Oy's Nokia phones:
Finish company's come-back phones—Nokia 6, 5, 3 and Nokia 3310 re-boot, though mid-range and budget in categories, they got the most attention from media in Barcelona.
All the three Nokia Android phones come with top-notch build quality and guess what, they will come with pure v7.0 Nougat OS with no custom UI and also Google Assistant, making them the cheapest phone to house a digital butler.
Even Nokia 3310 re-boot comes with refreshing design and colour options. Key improvement is the inclusion of 2MP camera on the back. Like the original, the new model too will have long battery life.
Read more: MWC 2017: HMD Global unveils Nokia 6, 5, 3, Nokia 3310; price, specs; all you need to know
ZTE Gigabit:
Emerging Chinese telecommunication major ZTE launched a feature-rich ZTE Gigabit, the world's first 5G-ready phone.
ZTE Gigabit phone users will be able to stream video content or download files with astronomical 1gbps speed. It's Qualcomm-made Snapdragon 835 processor comes with advanced X16 LTE modem that uses 4x4 MIMO (Multiple Input and Multiple Output) wireless antenna technology and 256-QM modulation to achieve ten times faster Internet connectivity compared to current LTE standards.
Read more: ZTE Gigabit, world's first 5G-ready phone, launched at MWC 2017
Sony Xperia XZ Premium:
In our opinion, the Xperia XZ Premium was best phone launched at MWC 2017. It comes with so many unique features compared to the current crop of flagship phones, including the recently launched LG G6. The XZ Premium series boasts 4K HDR display, which guarantees a rich viewing experience. It also boasts the latest Bluetooth 5.0 wireless technology and guess what, it supports Cat.16 LTE networks, which means the users will be able to download files close to 1gbps download speed similar to the 5G-ready ZTE Gigabit, which also made its debut at the MWC 2017.
Like previous flagship Xperia phones, the new Sony mobile comes with state-of-the-art camera hardware, which includes 19MP Motion Eye camera capable of recording ultra slow-motion videos at 960fps.
At the front too, it houses impressive 13MP camera with wide-angle field of view having 1/3.06-inch Exmor RS sensor.
Read more:MWC 2017: Sony launches new 5G-ready Xperia XZ series with top-notch camera
In addition to Xperia XZ series, Sony also unveiled mid-range Xperia XA1 and XA1 Ultra with MediaTek processor.
Key aspect of the Xperia XA1 series is its camera hardware. Though, not on par with the XZ series, but are better than competitors in the mid-tier range.
Read more: MWC 2017: Sony launches mid-tier Xperia XA1, XA1 Ultra with 23MP camera and MediaTek SoC
LG G6:
Drubbed over G5's build quality, last year, LG had its reputation at stake to make G6, success in 2017 or meet BlackBerry's fate. Well, LG G6 turned out to be an excellent device, boasting some industry first features including 18:9 aspect ratio of its display, which makes it the first commercial phone to be able to play pure cinematic HDR 10 videos (industry's highest video standard that can play even the Ultra HD Blu-ray). It also boasts QHD+ FullVision display (2,880 x 1,440) with Dolby Vision.
Other notable features IP68 water-and-dust repellent certification, dual-camera (13MP+13MP) with 125-degree wide angle view, Google Assistant feature and more.
Read more: MWC 2017: LG G6 with top-notch fullvision display, AI-based Google Assistant launched; all you need to know
Huawei P10 series:
Huawei P10 series' highlight is its photography hardware. It boasts state-of-the-art dual-camera co-created by world renowned optic firm Leica. It comes with 20MP monochrome sensor to capture sharp details (in-depth information of the scene) and more light, while the secondary 12MP camera will capture true colours of the environment. With this top-notch camera, users will be able to take photos with Bokeh effect, by blurring either foreground or background and yet keep the focus on the subject.
Read more: MWC 2017: Huawei P10, P10 Plus with Leica's upgraded dual-camera launched
Lenovo Moto G5 series:
The new Lenovo Moto G5 series comes in two variants—one, a generic Moto G5 and a top-end Moto G5 Plus. Both the phones come with same design language including metal cover on the back with huge circular camera module identical to Moto Z series. However, the internal hardware differentiates the new phones.
Read more: MWC 2017: Lenovo launches Metal-clad Moto G5 series with support for Google Assistant; all you need to know
BlackBerry KeyOne:
The former Canadian smartphone pioneer, which has signed exclusive brand leasing contract with China-based TCL Communications, launched the company's last in-house designed KeyOne. The BlackBerry's swan song phone KeyOne comes with 4.6-inch display iconic QWERTY keypad. It comes with perfect blend of glass and metal and the incorporation of aluminium-alloy shell on the back offers premium feel and also provides structural integrity to the phone.
Read more: BlackBerry's swan-song phone KEYOne with QWERTY design launched at MWC 2017; all you need to know
Gionee A1 series:
Gionee A1series come in two variants—the generic A1 and the A1 Plus. They come with state-of-the-art front camera with dedicated selfie flash technology and also house more than 4,000mAh battery enough to keep the phone running the whole day.
Read more: MWC 2017: Selfie camera-centric Gionee A1, A1 Plus series with massive battery launched
General Mobile-Google Android One GM 6:
The key aspect of the GM 6 is its security feature. It is the first-ever Android One series to house the fingerprint-sensor security. It is said to come with a response time of 0.2 second and a low false-rejection ratio. The GM 6's bio-metric scanner is placed on the front-panel's physical home button, unlike in the Google's Pixel phone models, where it is found on the back, just below the camera module.
Read more: MWC 2017: Google's budget Android One GM 6 series with fingerprint sensor launched
Watch this space for latest news on smartphones.