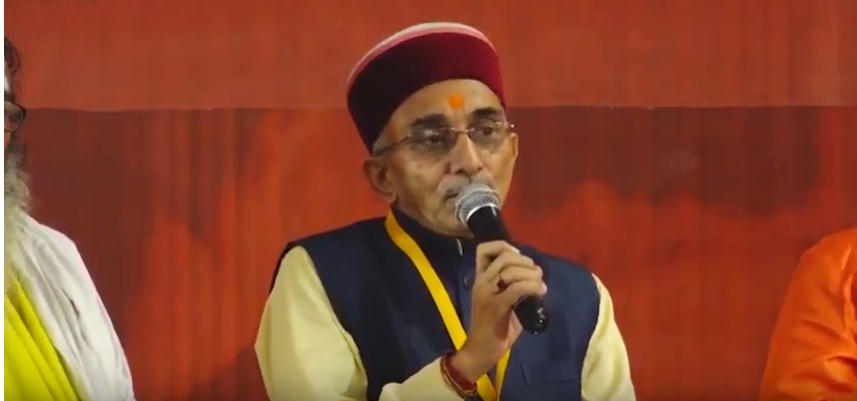 The vice-chancellor of Veer Bahadur Singh Purvanchal University in Uttar Pradesh's Jaunpur district ruffled a lot of feathers on Friday when he was caught on camera telling students gathered there to not hesitate to beat up their opponents and if required, killing them too. Raja Ram Yadav added that he will take care of the repercussions.
#WATCH Purvanchal University Vice-Chancellor Raja Ram Yadav at a seminar in the University in Ghazipur: If you're a student of this University, never come crying to me. If you ever get into a fight, beat them, if possible murder them, we'll take care of it later. (29.12.18) pic.twitter.com/omFqXN55z9

— ANI UP (@ANINewsUP) December 30, 2018
Reports claim Yadav is part of Rashtriya Swayamsevak Sangh and is also closely associated with Bharatiya Janata Party.
During his address at the Veer Bahadur Singh Purvanchal University, Yadav told the students there to not go crying to him if there is any problem.
"Agar aap Purvanchal University ke chhatra ho to rote huye mere paas kabhi mat aana. Ek baat bata deta hoon, agar kisi se jhagda ho jaaye to uski pitai karke aana aur tumhara bas chale to uska murder karke aana, uske baad hum dekh lenge (If you are a Purvanchal University student, don't come to me crying. If you get into a fight with someone, beat up that person. If possible, kill him. I will take care of things after that)," Yadav said, PTI reports.
Yadav's words drew the ire of many politicians who called him out for his violent words. The Uttar Pradesh government called him out for his choice of words.
"I have asked the vice-chancellor to give his version of the story," Uttar Pradesh Deputy Chief Minister Dinesh Sharma was quoted as saying by PTI. Sharma is also Minister for higher education in the state.
Samajwadi Party's spokesperson Abdul Hafiz Gandhi said, "The vice-chancellor must be booked for inciting and provoking students to indulge in criminal activities. He is not behaving like a vice-chancellor but as the warlord of a criminal gang. We cannot expect academic excellence from such criminal-minded people. He should be sacked for making such statements."
UP Minister and the state government spokesperson Siddharth Nath Singh said, "It was wrong, he can't make such comments. He should teach students the way of peace but he's doing 'gunda raj'... A vice-chancellor of such mentality has no right to stay in his position. I hope Deputy Chief Minister will take appropriate action," reported PTI.
National Conference (NC) vice-president Omar Abdullah posted the video of Yadav's speech on Twitter and said, "Get into a fight, commit a murder as a result and this university VC will take care of things. This is what passes for an education in some places these days. Not surprisingly the audience even applauds his assertion."