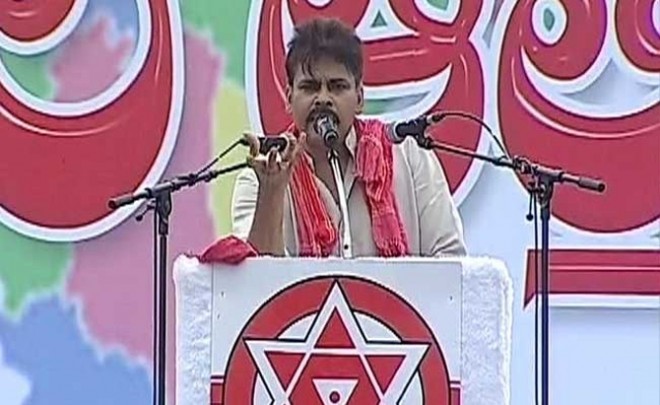 BJP leader Siddharth Nath Singh responded strongly to Pawan Kalyan's remarks against the party and M. Venkaiah Naidu. He called the latter the third rotten laddoo after the YSRCP and the Congress party.
In his speech at the Atma Gourava Sabha in Kakinada on Sept. 9, Pawan Kalyan had taken a jibe at the BJP and Union Minister for Information and Broadcasting M Venkaiah Naidu for failing to get special category status to Andhra Pradesh (AP). "We have waited two-and-a-half years for special status category and all that the Centre has given is two rotten laddoos, for which we have to thank our honourable Venkaiah Naiduji," the Jana Sena supremo said.
Siddharth Nath Singh, the BJP national secretary in-charge of AP, held a press conference on Sunday to respond to the criticism of the party and its MPs. He demanded an apology from the actor for his attack even after the Centre announced a special financial package for the State.
Singh said there was no provision for special category status under the 14th Finance Commission and the generous financial package would address the concerns of revenue deficit in the state. "Mr Pawan Kalyan has levelled serious allegations against Mr. Venkaiah Naidu whose record of public service is impeccable. He is accusing a man whose accomplishments are like showing a lamp to the sun," the Hindu quoted Singh as saying.
He said that the BJP was not in power when the special category status for AP was being talked about and it did not know about the recommendations of the 14th Finance Commission. "Manmohan Singh accepted 14th Finance Commission report in January 2014. We came to power in May. He did not include the special status in the report," Singh said.
"In the report, there is no provision now for dividing the states on special and general basis for giving them certain financial packages or for the purpose of devolution of central taxes," he said. "Once that is done, there can't be any special or general category," Singh asserted.
Meanwhile, he also condemned Pawan Kalyan's remark about the injustice by north Indians towards a south Indian state. "Mr. Kalyan's allegations of discrimination against south India by north Indians at the Centre reeks of trying to create a divide in this country, on charges that are utterly false. Mr. Kalyan is the third rotten laddoo after YSR Congress and the Congress party," he said.