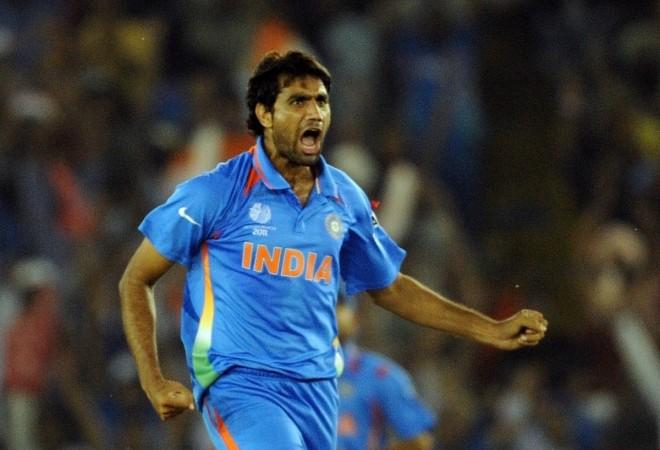 India cricket team pacer Munaf Patel has vehemently denied links to match-fixing syndicate after a newspaper report claimed a 2011 World Cup-winning Indian cricketer was under the scanner over a possible association with the mastermind of an "organized cricket racket" that partly funded a private Twenty20 league in Jaipur last year.
Patel's name came up during an investigation by Rajasthan Police Crime Investigation Department (CID) and an anti-corruption agency, Times Now said.
The 34-year-old pacer had attended the inauguration of Rajputana Premier League (RPL), the T20 league in question that was pulled up by Board of Control for Cricket in India's (BCCI) Anti Corruption and Security Unit (ACSU), according to the news channel.
Earlier in the day, The Indian Express had reported that a member of the MS Dhoni's World Cup-winning squad was found to be having links with the match-fixing syndicate during an investigation of 14 members of the league, arrested last year, by the Rajasthan Police.
The cricketer, who represented India across all three formats, was seen on the sidelines of the RPL, which witnessed quite a few bizarre and suspicious passages of play.
'Will you question Salman Khan if something wrong happens with IPL?'
"You must know that a person who has played the IPL, who has played for the country, will they do fixing in the Rajputana League?" Patel told Times Now on April 6.
When pointed out that he had attended the opening ceremony, the pacer added: "What's the big deal. If I get the money, can I not even go for the inauguration ceremony? Now Shahrukh Khan will come, Salman Khan will come, will they come for free? You know even they take money to come right?
"So suppose something wrong happens in the IPL, will you question Salman?"
"My life revolves around cricket, and I do not even do anything apart from playing cricket. If anyone accuses me, whether it's the CID or the Government, I will not leave them. I have not played nor I am a bookie.
"So there must be a proof right due to which these matters are emerging. You are calling me, you should have called hte CID or the police and asked them the basis on which they were coming up with these names.
"Instead of asking me, ask them as to on what basis are they taking Munaf's name who had just come for the opening ceremony but does even know anyone."
The T20 tournament in question came under the BCCI's scanner for the first time last year and is now being investigated by the Rajasthan Police's CID. Notably, the matches, involving club cricketers, were telecast live on a private sports channel, which previously held the rights for India cricket team's home matches.
Investigators reportedly believe the organizers of such league make huge sums of money around Rs 2 crore to Rs 3 crore in a week, according to the newspaper report. They also found out that a "spotter" stationed outside the stadium during matches conveys information from bookies to on-field umpires using walkie-talkies.
ASCU's former chief Neeraj Kumar, speaking to the same publication, had shed light on how bookies and fixers were making money by hosting private T20 tournaments in the country and how their telecast helped bookies and the betting community.