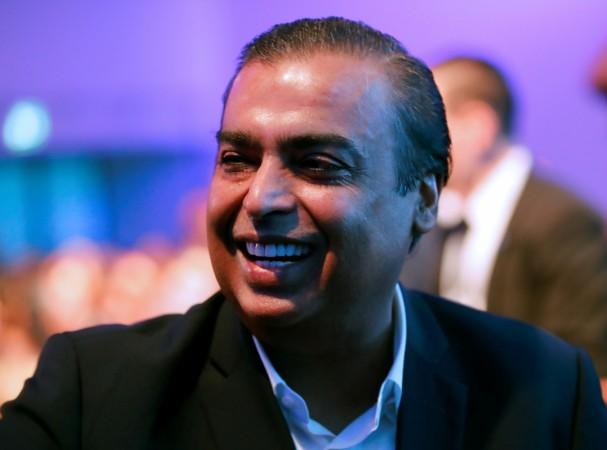 Reliance Industries chairman Mukesh Ambani has overtaken Alibaba's Jack Ma as the richest individual in Asia, according to a report published by Bloomberg on Friday, July 13. Ambani had amassed a total fortune $44.3 billion as Reliance shares shot up by 1.6 percent.
"Jio is the biggest driver behind the surge in Reliance shares. With Jio, Ambani has created a highway. He will also provide you with cars and say you drive in my car, on my highway. Just give me the toll now. It was not so clearly visible earlier," Deven Choksey, the managing director at Mumbai-based KR Choksey Shares and Securities Pvt, was quoted as saying by Bloomberg.
Ambani had leapfrogged Ma as the net worth of the latter stands at $44 billion at the close of trade in the United States. Reliance Industries market valuation had risen past Rs 7 lakh crore mark in the morning trade, thus becoming the second company after TCS to join the $100-billion mark for market capitalization club.
Ma had lost $1.4 billion in 2018 while Ambani made a profit of $4 billion with the doubling of petrochemicals capacity of Reliance.
Bloomberg had recently compiled the list of the world's richest individuals. Here are the top 3.
Jeff Bezos -- The Amazon chief is the world's richest person with a total net worth of $142 billion. He took the top spot on Bloomberg Billionaires Index 2018. Bezos is the largest shareholder of online retail giant Amazon.
Bill Gates – The co-founder of Microsoft, the world's biggest software maker, secured the second spot in the world's richest rankings. His net worth is around $ 94 billion and that is excluding his donations involving more than $30 billion to the Bill & Melinda Gates Foundation.
Mark Zuckerberg – The 34-year-old CEO of Facebook made the cut into the top 3 richest billionaires list after Facebook shares witnessed a surge recently. He is also a philanthropist who has decided to give away 99 percent of his stocks to raise money for charity.