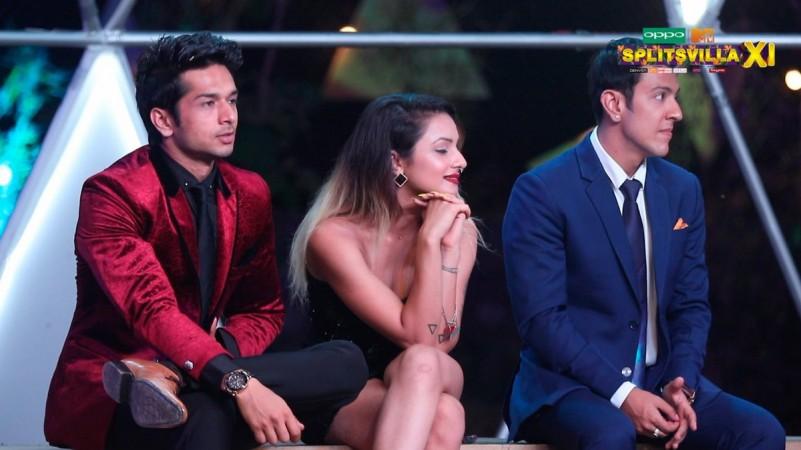 7:47 pm - Oracle tells Arushi that one of the two guys is her ideal match. Fahad or Kabir, who will be the one?
7:46 pm - Arushi Dutta chose Kabir as well Fahad to face the Oracle with.
7:40 pm - One contestant will definitely get eliminated and say goodbye to the show once and for all.
7:37 pm - Shruti's decision gives Arushi a big advantage in the game. Arushi gets one more chance to go with another guy to the Oracle other than Fahad. Arushi says she will go with Kabir as well. Kabir's connection Anushka doesn't have any issues with it after they both confessed their love to each other.
7:34 pm - Contestants are now inside the dome. Arushi and Shruti will choose any one boy to go in front of the Oracle. Arushi says she will go with Fahad. Shruti says she will not choose anyone because she doesn't want to lose Rohan.
Shruti missed the chance to face the Oracle as she decided to stick with Rohan, but a mischance for one, is a chance earned by another. Dutta will face the Oracle with two guys!
7:32 pm - Shruti and Rohan wins the task while Anushka finishes last. Arushi Dutta finishes second in the task. She is safe tonight.

7:31 pm - Anushka falls badly on her head. She is stunned.
7:27 pm - Shruti has a very bad fall while breaking the bed with Rohan. But Rohan helps her to get her back on her feet and complete the task.
7:22 pm - Arushi Dutta seems to have performed better than Arushi Handa.
7:17 pm - Arushi Handa completes her task leaving everyone with laughter. Now Arushi Dutta performs.
7:11 pm - Sunny and Rannvijay explain today's Test Your Bond challenge to the contestants. Two swinging beds are placed. Girls will have to hop and reach the first bed where a boy will be tied. The girl will untie her hands and the boy. She will then head towards the other bed where she will have to eat and finish the cake with another boy using only their mouths. After finding the locket from the cake, the girl will head towards the third bed and indulge in a pillow fight with another boy. After finding the box inside the pillow, the girl will then have to dance on the swinging bed, balance her way out and cut the rope by bouncing on it.
7:09 pm - Rohan mocks Anshuman for acting angry and the latter is all red-headed at the moment now. Anshuman argues that Rohan pushed him with a fist which was not in good taste for him.
"English padh liya hota toh pata hota," says Anushka. Anshuman was really offended with this statement. Do you think Anushka should apologise to Shagun and gang?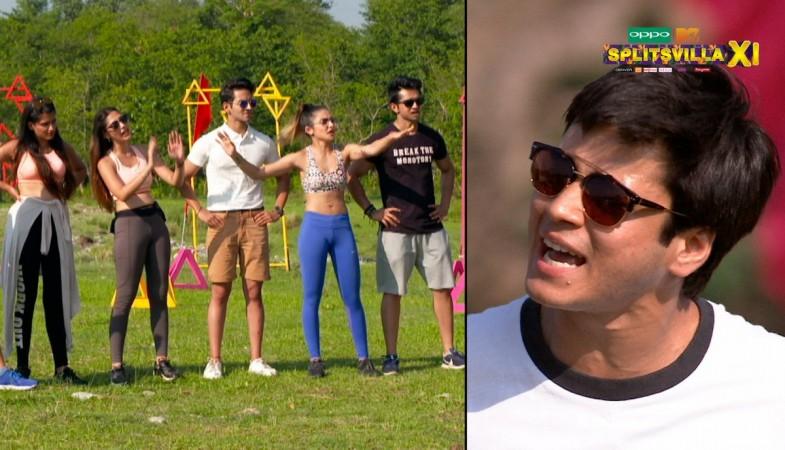 7:08 pm - Contestants arrive at the Test Your Bond challenge location. Arushi and Shruti tell Sunny Leone and Rannvijay that Roshni won't be performing the task today because they felt Roshni was being unfair to everyone telling them they shouldn't perform.
While Dutta was trying to save herself and convince others to not let Shruti perform, it's Roshni who has fallen in the trap.
7:07 pm - Roshni and Anshula abuse and point fingers at each other's characters.
Ab Anshuman ke khilaf kuch bola jaa raha hai toh Shagun peeche kaise khada rahega! Shagun is all in to protect his friends and is picking a massive fight with Rohan and team!
7:05 pm - Shagun gets mad at Rohan for pushing his friend. He warns everyone of consequences.
Anushka and Rohan are accusing Roshni of switching sides! Just like she jumped from Fahad to Anshuman, she seems to have also jumped from Rohan's team to Anshuman's team!
Aarushi Dutta saying Shruti shouldn't perform the task is totally understandable since they're foes. But Roshni, who is Shruti's best friend, also says she doesn't want Shruti to perform!
7:04 pm - During the discussion, Rohan pushes Anshuman with a fist and this is when the latter lost his cool. It's a chaos inside the villa.
Naya din, naya dhamaka! One of the saved girls won't get to perform in the next task and the decision lies in the hands of the Splitsvillans! Jhagda toh hona hi hai?
7:01 pm - Out of these five badass women - Arushi Dutta, Shruti Sinha, Roshni Wadhwani, Arushi Handa and Anushka Mitra - who were saved last week, only four will be allowed to perform in the next task.
MTV Splitsvilla 11 contestants Shruti Sinha and Rohan Hingorani failed to become an ideal match but the bond between the two has grown strong. In a new twist to the show's format, three individuals will get a chance to ask the Oracle and it looks like the dating show will finally get its first ideal match.
In tonight's episode, contestants will be seen competing in Test Your Bond challenge called Bed Time Stories in which Splitsvillains will be seen indulging in naughty yet funny activities. But it seems like things have turned ugly among the contestants.
Shagun and Rohan's team can be seen getting into a heated argument inside the Villa. The fight gets intensifed so much so that boys can be literally seen trying to hit each other whereas girls continue to throw abuses while screaming at the top of their lungs.
Keep watching this space for the latest updates from MTV Splitsvilla 11.