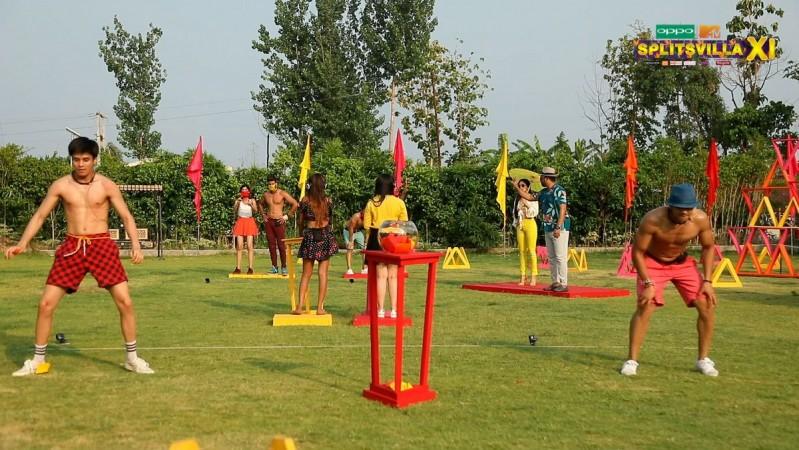 7:55 pm - In the upcoming episode, three contestants will go in front of the Oracle to ask about their ideal match.
7:47 pm - Rohan's team wins the Bum Diggy Diggy task after a neck-to-neck competition. They guessed 7 words while Monal's team guessed 6 words.
Shagun and Maera took the game up a notch, nailing it and how! But despite their undying efforts, Monal's team lost.
7:38 pm - Looks like Rohan's team is going to win the task.
7:34 pm - After 3 rounds, Rohan's team score is 5 while Monal's team score is 3. Two more rounds remaining.
7:32 pm - Rohan's team is one point ahead in the Bum Diggy Diggy task.
7:22 pm - The contestants have to use their bums to write letters! Only boys will use their butts to do this.
From Rohan's team, Shruti and Gaurav will be enacting, and Roshni was there to guess the word.
From Monal's team, Shagun and Sheetal, Anshuman will be shaking his bum to draw the word in the air and Maera will be at guessing side.
They scored 2 all in the 5 min task. Now other team members will perform.
7:21 pm - Today's Bae Watch Session is called Bum Diggy Diggy.
7:19 pm - Splitsvillains will compete at the Bae Watch Session. Monal and Rohan are the team captains.
7:18 pm - Everybody is back in the villa. Shruti says she feels sad that she and Rohan didn't become an ideal match but she is least matter with it.
7:17 pm - Rannvijay asks Shruti and Rohan whether they will go with someone else and compete to become an ideal match. Both Shruti and Rohan say they will stick to each other. This saves Anshula from elimination.
7:16 pm - According to Oracle calculations, Shruti and Rohan are not an ideal match.

7:15 pm - Shruti and Rohan get a chance to ask Oracle whether they are an ideal match or not.
7:13 pm - Rannvijay asks the four couples to write names of Splitsvillains who they want to send home while other contestants will name the couple who they want to send in front of the Oracle.
7:12 pm - Oracle expresses itself, says safe girls can choose any boy who they think will be their ideal match. While Shruti chooses Rohan, Maera chooses Simba.
7:10 pm - Anshuman chose Arushi, Monal chose Punit but a sudden alarm makes everyone anxious.
7:08 pm - Sunny asks Rohan to express his feelings on paper. He reads out the heartfelt letter which makes Shruti blush like anything. She comes and gives him a tight warm hug. Sunny and Rannvijay liked it.
7:07 pm - Meanwhile, Shruti expresses her feelings towards Rohan. She says that Rohan may not be her ideal match but she really likes her and feels that it may be one-sided. However, Rohan responds positively.
7:06 pm - Shruti tells Anshuman to go with what they had discussed about going in front of the Oracle.
7:05 pm - Shagun and Rohan lock horns with each other.
7:04 pm - Shagun tells Rannvijay that he thinks one of their team members would bid adieu to the show. He says he was disappointed with Anshuman because he chose Shruti to perform in the task.
7:03 pm - Splitsvillains enter the dome where host Sunny Leone and Rannvijay Singha welcome them.
7:02 pm - Roshni Wadhwani and Anshula Dhawan get into a heated argument. Other contestants are trying to control them but to no avail.
7:01 pm - Shagun Pandey, Anshula Dhawan are feeling sad that one of them might get eliminated tonight.
MTV Splitsvilla 11 contestants Shruti Sinha and Rohan Hingorani will walk together in front of the Oracle to check whether they are an ideal match or not. Since the first day itself, so many guys fell for Shruti, but she was waiting for her one and only and looks like she's finally found him. However, she is also facing a dilemma about whether Anshuman Malhotra is her ideal match instead of Rohan.
After winning the Test Your Bond Challenge, Ashuman, Shruti and Arushi Handa got a chance to test their compatibility in front of the Oracle.
Shruti and Rohan will also be seen confessing their feelings to each other. But will they become an ideal match on the show? or whether she is committing a huge mistake by rejecting Anshuman?
Keep watching this space for the latest updates from MTV Splitsvilla 11.