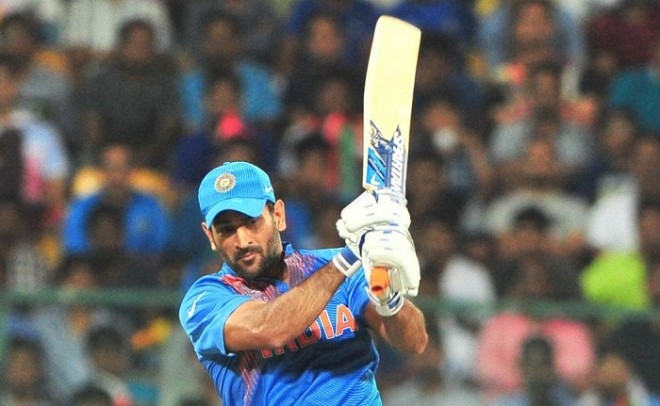 Praised, battered, criticised, praised again — that's how the journey of Mahendra Singh Dhoni has been since he made his debut with the India cricket team in 2004 in an ODI match against Bangladesh in Chittagong. A decade and more has passed, but 'Captain Cool', as he is fondly known, is still going strong.
Dhoni turns 35 on Thursday and his teammates, sports associations, fans and critics haven't forgotten the date in a hurry. Every sports fan took out at least a minute to wish the India limited overs cricket team captain on Twitter and Facebook, and made 'Happy Birthday MS Dhoni' a social media trend once again.
Regarded as one of the best finishers in limited-overs cricket, MS Dhoni, a winner of the ICC ODI Player of the Year award in 2008 and 2009, a Rajiv Gandhi Khel Ratna and also a Padmi Shri recipient, has had a career that makes him an instant inspiration to millions. He was also conferred the honorary rank of Lieutenant Colonel by the Indian Territorial Army in 2011.
Besides all these major recognitions, who can forget that he is the only India skipper so far to inspire India to lift the ICC World T20 in 2007, the Asia Cup in 2010, the Cricket World Cup in 2011 and the ICC Champions Trophy in 2013.
So no wonder then that Bollywood — the only thing that has as much popularity in India as that enjoyed by cricket — is also playing a part to pay tribute to the aggressive-yet-calm cricketer. Neeraj Pandey-directed 'MS Dhoni — The Untold Story' is scheduled to be out in Indian theatres in September 2016, giving cricket lovers one more glimpse of the Ranchi-born cricketer's journey. The biopic will star Sushant Singh Rajput in the lead role.
Wishes for Dhoni as he turns 35 are pouring in from all quarters. The Board of Control for Cricket in India (BCCI) has also played its part as they have made a wonderful video collage displaying snippets from Dhoni's best knocks.
Watch the video HERE.
"35 birthday bumps for @msdhoni, unarguably among the greats of the game" - Ayaz Memon, cricket commentator, on Twitter.
"#SuperMachans, join us in wishing our inspirational leader, @msdhoni, a memorable birthday #HappyBirthdayDhoni. May the year ahead be filled with success both on and off the field #HappyBirthdayDhoni #PoduMachiGoalu" - ISL side Chennaiyin FC, co-owned by MS Dhoni.
"#HappyBirthday @msdhoni wish you a great day & 'tons' of success ! :-)" - Anurag Thakur, BCCI President.
More tributes on Twitter and Facebook:
"A birthday is a time for reflection and in the case of MS Dhoni, a time to acknowledge a massive contribution to Indian cricket.

It has been quite a journey from the long haired destroyer to the well coiffured cool finisher and that is an indication of his shrewdness and skill. I don't think there has been a better finisher in limited overs cricket over a career than Dhoni. He was a fine test player, an excellent T20 cricketer but it was in one-day internationals that he was at his best and often incomparable in the role he played.

Dhoni is rarely rushed and likes to grasp the situation before making a decisive move. You see that in almost all his great one-day innings as a finisher. I don't think he felt for test cricket in quite the same way he did for odis where, if his bowlers weren't taking wickets, he could juggle them around to the other logical end of the innings. In test cricket, he didn't have that option and so maybe he got defensive quickly.

He is 35 now and it will be interesting to see how many more birthdays he has as an India player. Fitness is not an issue and i don't think his reflexes are either. His major issue could be the amount of quaity cricket he gets to play because when you are not playing for India the quality of opposition you face is significantly lesser. Then, to turn it on in international cricket, can become a challenge.

But irrespective of how much cricket he plays, he will be seen as an all-time India great. At 35, it is not a bad reputation to have."

- Harsha Bhogle, cricket expert and commentator, on Twitter.