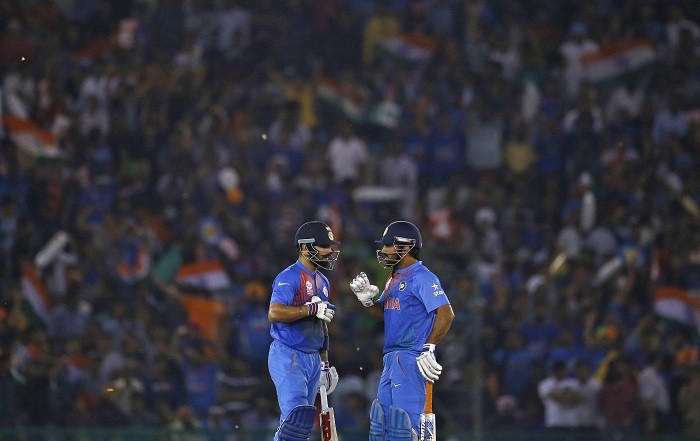 When MS Dhoni announced his decision to step down as captain, via the BCCI, the immediate thought was "OK, not a bad decision," considering India have such a great replacement in Virat Kohli. But then, the announcement would also have been met with some trepidation.
In hope of a transformed, free Dhoni
Not because Dhoni's career might be winding to an end – hopefully, the former captain goes on to play till the 2019 World Cup as a wicketkeeper-batsman – but because it would make Kohli the India captain of all three formats.
Now, there is no doubt that Test captaincy has brought out the best in Kohli – he has sobered down, without losing his competitive edge, and he has turned into an outstanding batsman in Test match cricket, period, no matter what James Anderson might think.
However, there is a big difference between captaining one format and all three. Now, Kohli won't have an opportunity to tune his mind off during limited-overs games; as the captain he will need to be zoned in from ball one to ball 600.
As just the Test captain, Kohli could afford to take it a little easier when the limited-overs formats came into play, knowing the team was in capable hands. Now, though, Kohli will be under the spotlight – not that he wasn't before – throughout. Not just with his peerless ODI and T20 batting, but in his captaincy, in his post-match comments, during the toss, his team selections and much, much more.
The 28-year-old has handled the captaincy pressure quite admirably in the Test arena, indeed it has brought out the best in him, but will the pressure of skippering the India team in ODIs and T20s as well prove to be too much for the man who can do no wrong?
We'll of course only know a few months down the line, but Kohli himself has admitted he will evaluate how much captaincy is taking out of him in three years. You add all three formats in, though, sooner than expected, and that three year evaluation could be cut down to two and a bit, most probably after the 2019 World Cup.
Kohli already is expected to do wonders every time he comes out to bat, taking over that particular mantle from his idol Sachin Tendulkar. With the added pressure of captaincy – the majority of the India fans only really care about the limited-overs results, unfortunately – something the greatest Indian batsman of all-time struggled with, it could prove to be all too much for the man from Delhi.
Knowing Kohli, though, and the manner in which he always seems to rise to the occasion, don't be surprised if it brings out the best in him again. While it might seem near impossible to improve on his ODI and T20 records, Kohli might just inject the fitness and winning mentality that little bit further and push India to greater heights.
He has already done that in the Test format, and there's a really good chance Kohli will add his magic to limited-overs as well. There will still be that worry, though, because burdening India's best batsman with too much could prove to be counter-productive, and nobody in Indian cricket wants that.