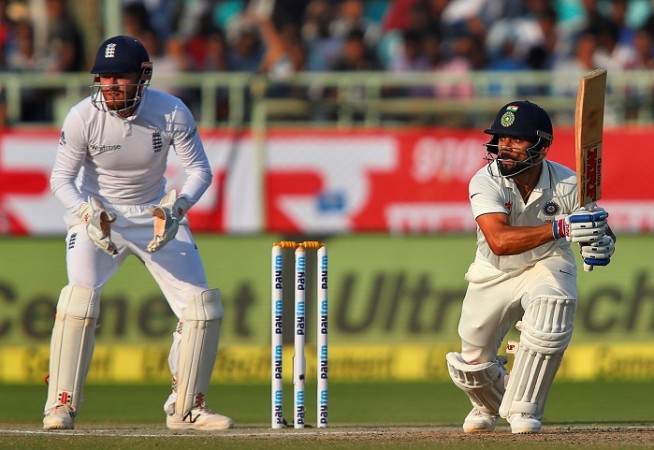 Every time Virat Kohli would defy logic and inspire awe with his confounding batting magic in limited-overs cricket, there would always be someone (and a few after that) who would say: "It's alright to do it in Mickey Mouse cricket, but he needs to show it in Test matches." It was not a criticism completely without merit.
While ODI and T20 cricket are formats that still test a batsman and while the manner in which Kohli continues to redefine the art of chasing into something akin to a Sunday morning stroll is beyond ridiculous, for the India batting superstar to really be considered one of the true greats, he needed to show that same consistency and talent at Test match level.
A batting average of around the 40-mark at the beginning of 2016 suggested Kohli was not quite there yet. There were a few signs, but the India Test captain was quite up there with Joe Root, Steve Smith, Hashim Amla, AB De Villiers, even with the two batsmen's powers waning a little, and Kane Williamson when it came to Test match batting.
That needed to change and it did, with the extra responsibility of being the captain perhaps giving Kohli the fillip he needed to really fulfil his Test match potential.
In the nine Test matches India have played in 2016, Kohli has brought out that consistency that is so essential.
In the first Test against the West Indies, Kohli struck a double hundred, his first ever, in the only innings India batted in. In the second Test, Kohli made 44 – again India only batted one innings.
The third Test did not quite go the captain's way, with scores of 3 and 4, while he was not given an opportunity to make up for those two failures after the fourth Test match was washed out.
So, despite that double hundred, there was still a bit for Kohli to prove against New Zealand at home, conditions where the great man has not quite been at his best in Test match cricket.
The first Test wasn't great with scores of 9 and 18, with those scores being followed by another 9 in the first innings of the 2nd match. Kohli showed signs of finding form with a 45 in the second innings, before really finding his feet in the final Test match, where he went on to score a fantastic double century.
However, despite those two big scores, there was an argument to be made that Kohli was still a little too inconsistent – he still did not quite give that "Oh, Kohli is at the crease, India are going to be OK" feeling that he always transmits in ODI and T20 cricket.
That would change against England.
In Rajkot, Kohli started the series off with a 40, before being dismissed in unfortunate circumstances, when he was out hit-wicket. You got the feeling if not for that hit-wicket, Kohli would have comfortably gone on to hit a century.
The second innings was Kohli in a different avatar – the one who can bat to save a match, not win it. Under pressure as the top and middle order crumbled around him on the final day in Rajkot, Kohli was assured and calm, leading from the front as India, eventually, batted out a draw.
That innings, no doubt, would have given him great confidence, because his next knock, in the first innings of the second Test match against England, at one of his favourites grounds – Visakhapatnam – was sheer class. Putting on a 226-run partnership with Cheteshwar Pujara, Kohli went on to score a magnificent 167, which set the game up for India.
If that century was impressive, if anything, his second innings knock of 81 was even better. Batting on days three and four, with the pitch showing variable bounce and slowing up considerably, Kohli kept scoring runs at will – his 81 came off just 109 balls, which is at a strike rate of 74.31.
It was as if Kohli was batting on a different wicket, a flat, day one pitch, while the rest around him struggled to eke out singles. That innings showed the real class of the man.
More such innings in the next three matches against England, and Kohli, whose average now is 48.03 after 50 games, will rightfully be up there with the rest of the Test batting best, if he isn't already.