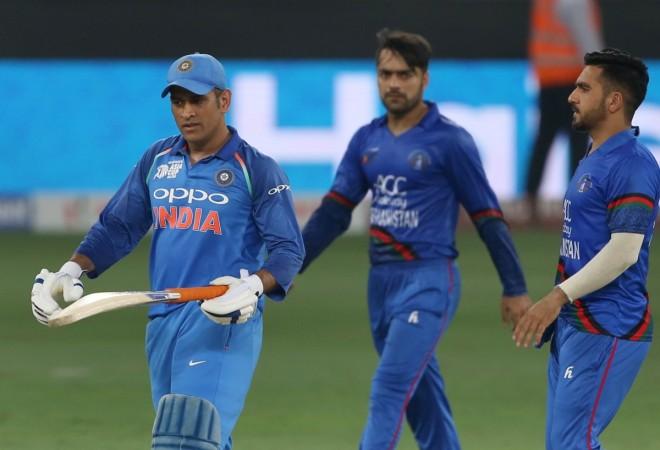 India and Afghanistan played out an exciting and exhilarating Super Four match in the Asia Cup on Tuesday, which ended in a tie as India were bowled out for 252, the same score that Afghanistan scored in the first innings of the match.
India got off to a strong start with openers KL Rahul and Ambati Rayudu scoring half-centuries, but the Afghans fought back by running through the Indian middle order to restrict India's scoring.
Two key wickets, that of Dinesh Karthik - who scored 44 - and MS Dhoni, helped turn the tide in Afghanistan's favour, but both dismissals were dubious as replays later clearly showed that they were wrongly given out LBW as the balls were missing the stumps.
Dhoni, who was captaining India as Rohit Sharma was rested for the game, said that he would be fined if he was to talk about a few things, referring to the umpiring.
"There were a couple of run-outs, and a few things we can't talk about because I don't want to get fined for it. It's good that it's a tie, but they played really well," said the World Cup-winning captain.
Dhoni, who was captaining India for the 200th time in ODIs, was full of praise for the Afghanistan team. He also said that the Indian team need to work on a few things.
"Their cricket has improved a lot. The way they have continued from the start of the Asia Cup, it is commendable and we have enjoyed their cricket. It is one country that has risen through the ranks very well. They played really well. They batted extremely well too," said MS Dhoni.
India will play either Pakistan or Bangladesh in the final of the Asia Cup on Friday.