The Election Commission of India has declared Congress as the single largest party in Madhya Pradesh with victory in 114 out of the 230 seats. BJP followed close behind at 109 seats. Congress has missed the majority mark by just two seats.
On Wednesday, BSP chief Mayawati announced her support to Congress. BSP won two seats and will help Congress touch the halfway mark.
Madhya Pradesh Congress chief Kamal Nath has also approached Madhya Pradesh Governor Anandiben Patel staking claim to form the government in the state.
Congress stunned the BJP in the Assembly elections by stealing Rajasthan and Chhattisgarh and giving a run for their money in Madhya Pradesh.
Congress has also emerged with a thumping victory in Rajasthan and Chhattisgarh. However, it was a neck-to-neck battle in Madhya Pradesh during counting on Tuesday.
Live Updates
Kamal Nath to address Congress workers
Congress' Kamal Nath will address the party workers following his meeting with former chief minister Shivraj Singh Chouhan.
Rumours are rife that Kamal Nath will be the next chief minister of Madhya Pradesh. He is pitted against Congress MP Jyothiraditya Scindia.
Earlier today, Kamal Nath met the governor of Madhya Pradesh to stake Congress' claim on the state after Mayawati-led BSP and Akhilesh Yadav of the Samajwadi Party extended their support to form the government to keep the BJP out.
Chouhan announces resignation, says that he is free now
"Ab mein mukt hoon, I am free. I have tendered my resignation to the honourable Governor. The responsibility of defeat is totally mine. I have congratulated Kamal Nath ji," Chohan told ANI after her submitted his resignation to the Madhya Pradesh governor.
He also said, "Na haar mein, na jeet mein, kinchit nahin bhaybhit main, kartavya path par jo bhi mile, yeh bhi sahi woh bhi sahi."
After BSP, SP extends support to Congress
Akhilesh Yadav-led Samajwadi Party has extended its support to Congress to help them form the government in the state.
"Samajwadi Party will support Congress in forming the government in Madhya Pradesh," Yadav was quoted as saying by ANI.
Shivraj Singh Chouhan to step down
Madhya Pradesh chief minister Shivraj Singh Chouhan has reached the governor's house to submit his resignation.
"We did not get majority, will not stake claim to form Government, I am going to tender my resignation to the Governor," Chouhan was quoted as saying by ANI.
MP BJP leaders meet Chauhan
BJP leaders Kailash Vijayvargiya, Rakesh Singh, Vinay Sahasrabuddhe and Narendra Singh Tomar meet at outgoing chief minister Shivraj Singh Chauhan's residence in Bhopal.
Kamal Nath announces Congress victory on Tuesday
Mayawati declares her support to Congress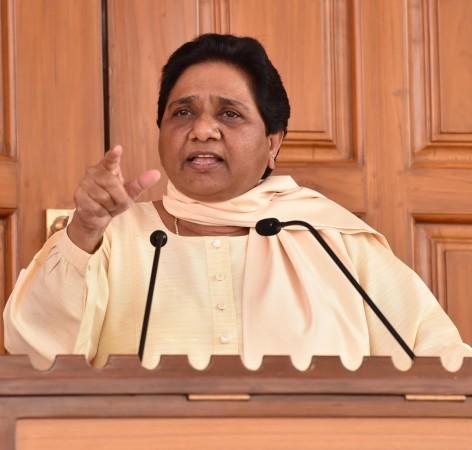 Bahujan Samaj Party chief Mayawati declared her support for Congress on Wednesday morning after the Congress fell short of the majority by just two votes.
The BSP had won 2 seats and agreed to ally with the Congress.
"Results show that people in states like Chhattisgarh, Rajasthan and Madhya Pradesh were totally against the BJP and its anti ppl policies and as a result chose Congress due to lack of other major alternatives, " Mayawati was quoted saying by ANI.
She added, "Even though we don't agree with many of Congress's policies we have agreed to support them in Madhya Pradesh and if need be in Rajasthan."