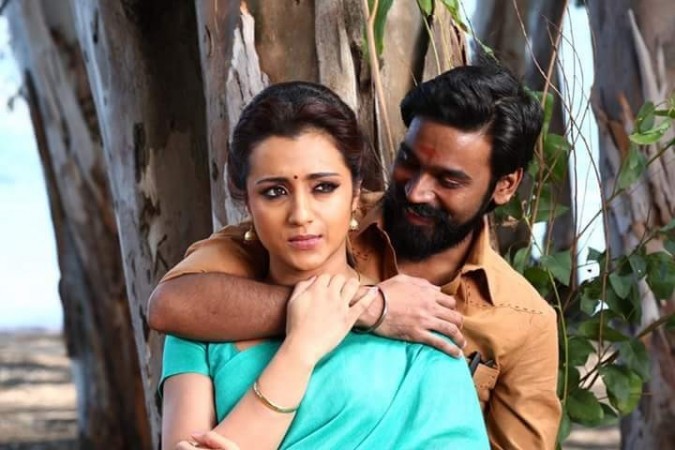 Cast: Dhanush, Trisha Krishnan, Anupama Parameswaran
Direction: Durai Senthilkumar
Diwali releases are always looked forward to in Tamil cinema and the audience has high expectations from Dhanush's Kodi (flag). In a first, director Durai Senthilkumar introduces Dhanush in a double role in this political drama.
National Award-winning actor Dhanush plays the roles of Kodi and Anbu. While Kodi's life revolves around politics, Anbu is a studious one. Their lives lead them in different directions but they remain emotionally tied to each other.
Trisha Krishnan plays the role of Rudra, a woman who has strong political ambitions. Rudra and Kodi work with opposing parties but they fall in love and want a life together. Meanwhile, Anbu meets Malathi (Anupama Parameswaran), an egg vendor, who wants to help underprivileged and children who need medical assistance in society.
Life takes a turn for Kodi when Rudra betrays his trust. What happens to their love story? Does Rudra fulfil her political ambitions? Do Anbu and Malathi have a happy ending? Does Kodi become a successful politician?
Dhanush has ensured he portrays Anbu and Kodi differently and you find it right from his looks to mannerisms and demeanour. He delivers a powerful performance in both the roles which are shown to be in contrast -- while Kodi is uneducated and rough-and-tough, Anbu is educated, soft-spoken and fearing.
Anupama as Malathi delivers a very convincing performance and this role is likely to land her more Tamil films. Trisha has played a role with negative shades for the first in her career. Though she pulls off the simple village girl look, it's the political dialogues she mouths that don't gel.
Music director Santhosh Narayanan has worked in a Dhanush film for the first time and he has been able to deliver the mass songs that Dhanush fans are crazy about.
Director Durai Senthilkumar and Dhanush have given a total commercial film for the audience this Diwali. Watch the film for Dhanush's strong performance as Anbu and especially Kodi. This Diwali, this Kodi is set to fly high.
Rating: 3.25/5