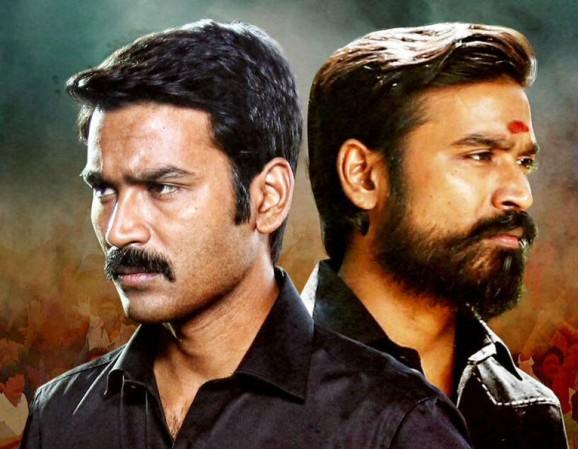 Dhanush's Kodi has opened to fairly positive reviews. The performance of the lead actors backed by mass elements has impressed the viewers.
Barely a month after the release of Thodari, Dhanush is returning with his latest film Kodi, which has hit the screens on Friday, October 28, as a Deepavali treat to the Tamil audience. He has collaborated with RS Durai Senthil Kumar, who has two hits to his credit — Ethir Neechal and Kaaka Muttai, both produced by the Kolaveri di maker.
Bairavaa Teaser | Bairavaa Song Pics | Singam 3 Motion Poster | Kaashmora Review
Kodi stars Trisha Krishnan as the lead actress. It is her first outing with Dhanush. Anupama Parameswaran of Malayalam blockbuster Premam fame will be seen in an important character in the movie, along with Ilayathalapathy Vijay's father SA Chandrasekhar. Saranya Ponvannan, Kaali Venkat, Singamuthu, Namo Narayana and others are in supporting roles.
The film features cinematography by Venkatesh S, while Prakash Mabbu has edited the political thriller. Santhosh Narayanan's Ei Suzhali, Kodi Parakkudha and Sirukki Vaasam songs have turned out to be chartbusters.
Kodi Movie Stills | Kodi Audio Launch | 5 Reasons to Watch Kaashmora | Kaashmora Movie Stills | Kaashmora Music Launch
Dhanush will be seen playing a double role, of a politician (Kodi) and a college lecturer (Anbu), in the movie. Trisha Krishnan plays an ambitious village girl and a politician in the commercial entertainer while Anupama Parameswaran is essaying the role of an egg vendor. The movie is set in the rural backdrop and the story is narrated with a lot of twists and turns.
Kodi and Anbu are twins, who are the sons of a dedicated political party worker (Karunas). While former is interested in politics despite facing severe opposition from his mother (Saranya), the latter is a lecture in a college.
On the other hand, we have Rudra (Trisha), an ambitious girl, like Kodi, who desires to make it big in politics. She is willing to go to any extent to fulfil her dreams. The film takes an interesting turn when the hero and the heroine are pitted against each other in a by-election. The surprising part of the story is that they are secretly in love! What follows next should be seen on-screen.
Reviews:
Kodi is purely a mass film in which Dhanush has excelled in dual roles. His performance in two characters undoubetedly remains the major highlight of the film. Trisha will be seen in a bold role and Anupama has done justice to her limited role. Technically, Santhosh Narayanan's music takes the quality of the film to the next level. Well, the film has its own share of drawbacks. Major among them is poorly written scenes at parts. Below, check out the comments posted by viewers:
Teejay S: #Kodi Review (3.25/5) - Final Verdict -
First Half Mass! Second Half - Class Becomes Mass. Overall - Marna Mass for Fans and Audience!
#Kodi Review (3.25/5) #Premam girl @anupamahere does an amazing job in the movie. Hoping to see more of you in TC.
#Kodi Review (3.25/5) #SAC is a major anchor and root that keeps the flow of the movie. Well Done Sir!
#Kodi Review (3.25/5) - @trishtrashers does a never before done role and comes out with flying colours! Hoping that you take such roles!
#Kodi Review (3.25/5) @dhanushkraja proves that he can entertain while acting at his best! Such Variations between d politician & professor
#Kodi Review (3.25/5) is a wholesome entertainer, which is gripping and well crafted by Director @durairsk along with excellent performance.
Priyanka: #Kodi a political thriller that has everything for all section of audience. Go watch it.
Jo fredrick: #Kodi 1st Half: @trishtrashers in an interesting never before seen role.. Matching with Politician @dhanushkraja 's #KODI in equal measure
#kodi both dhanush good acting.. SAC super.. Every singles character have good role.. dhanush hardly required this hit..superb first half..
Praveen: #Kaashmora — Major disappointment to me was #SanthoshNarayanan's music. Gokul's screenplay cld hv been better.Go watch with low expectations
#Kaashmora — #Nayanthara's sheer mass portion in the last half an hour is the key selling point. Wish the period portion was in good depth.
#Kaashmora — #Karthi's performance brings back #Siruthai memories. Comedy has been well staged. Kudos to him for makeover, looked so real.
#Kaashmora — Lot of genres put across the narration but with no consistency. @Karthi_Offl & @Actor_Vivek make the film work to large extent.
#Kaashmora — The script is completely different from how the film is being promoted. Different story but has shades of #Suriya's #Masss.
#Kaashmora — 2.75/5 Heavily flawed (mainly pacing & script), but highly ambitious yet enjoyable in parts. #Karthi impresses in dual roles
Thangam.k: #kodi first half update.. dhanush came back to the track.. Good first half.. politics based good story.. Perfect screen play..
#Reviews
Sivasu: #Kodi What a comeback for @dhanushkraja.What an actor.Super script for a mass film with stunning show from Dhanush.Sure Blockbuster.
ZKS: #Kodi neither good nor bad.... it's just an average movie which can be watchable once. Don't know why critics are over hyping it....
Sidhu: #Kodi Interval: Going good! Generous mix of mass, politics and entertainment. Dhanush is ruling the dual role, Trisha is apt as well.
Ramesh Bala: #Kodi : Difficult role for @trishtrashers - Kudos for acceptin this role.. She has to stay away from theatre 4 sometime.. But it's all gud
#Kodi: Mass in 1st Half.. Class turns Mass in 2nd Half.. Result is Total Marana Mass.. @dhanushkraja is in Top form and has a Clean Winner
#Kodi 1st Half: @trishtrashers in an interesting never before seen role.. Matching with Politician @dhanushkraja 's #KODI in equal measure
#Kodi 1st Half: @dhanushkraja 's #KODIPARAKKUDHA Mass as Politician #Kodi.. Class as Professor.. Racy with interesting screenplay so far.
Kaushik LM: Showtime #Kodi at Kasi... Awesome atmosphere.. Fans rocking with their energy & celebrations.. @dhanushkraja..
#Kodi 1st half -Decent! Political tension building up, with a social angle, some romance, sentiment... Kodi @dhanushkraja carrying the show
#Kodi Vetrikodi Kattum Will be a return Hit for @dhanushkraja. @durairsk's best so far. Ideal festival mass film with content substance too
#Kodi -@trishtrashers shows guts to play this ruthless politician's part! Her 2nd half confrontations with D connect big. Comeback for her
#Kodi 2nd half - very good. 'Once a twin, always a twin' concept rocks. Packed with powerful scenes & mass moments. Grt response. Sureshot
Vasanthan: Halftime!! Formulaic entertainer but it's refreshing to watch #Dhanush in a dual role for the first time, double maazaa & anupama #Kodi