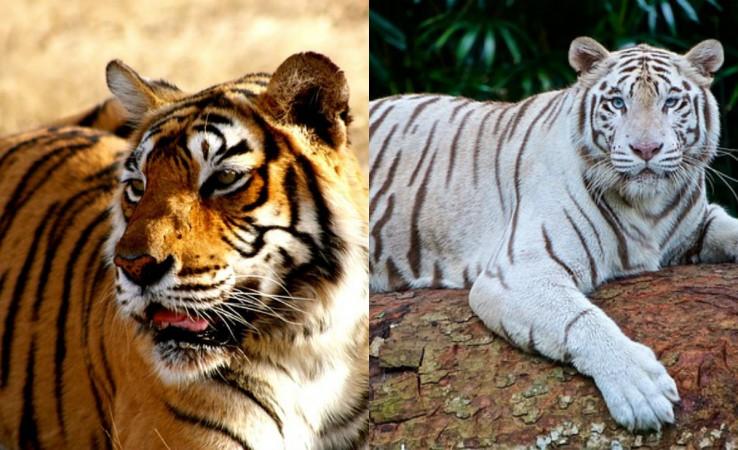 Get over Sonam Kapoor and Anand Ahuja's wedding as the "nuptial ceremony" of two tigers at Delhi zoo is way more cute and probably more important as the union is likely to improve the gene pool of the big cats. If everything goes well, the zoo staff are expecting healthy mixed offspring by October.
The three-year-old white tigress Nirbhaya and five-year-old Bengal tiger Karan were moved into a new enclosure to get "married" after the zoo authority noticed certain "chemistry" between them.
"We had kept them in close proximity with a caged wall between them to see how they react. On Sunday evening, we released them together and they bonded well. One could expect offsprings by wildlife week in October," said Renu Singh, Delhi zoo director, according to The Times of India.
This is the first time in 27 years that a "mix-and-mate proposal" is happening in the zoo. In 1991, the zoo authorities successful bred two types of tigers and they had one white and one Bengal cub
"White tigers have been inbreeding and the Royal Bengal tiger will not only introduce the dominant gene, but also improve the genepool of the offsprings that can either be a white or a yellow tiger," added Singh, as reported by the website.
The director also said that the tigers have mated 15 times since they have been moved in together. However, it is still not sure if the tigress is impregnated.
Strict vigil is being maintained and the staff is ready to provide as much attention and care needed for the animals.
White tigers are a pigmentation variant of the Bengal tiger, which is listed as an endangered species by the International Union for Conservation of Nature (IUCN) Red List.