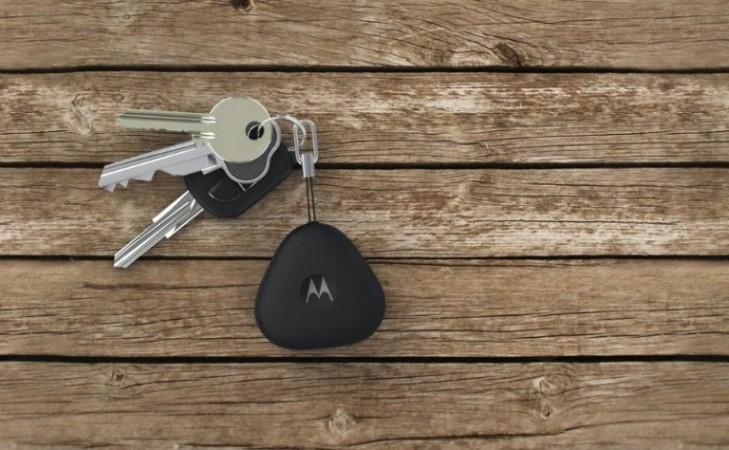 Motorola, the renowned smartphone maker, is adding a useful accessory to its product portfolio. The latest addition is a tiny Bluetooth gadget that attaches to almost anything such as a keychain and laptop bag to make it easier to find when lost. Motorola Keylink was unveiled on Wednesday and suitably fulfills the need for those who frequently lose their keys and other things.
Motorola Keylink is small and not too heavy. It features a tiny button that triggers the app to ring the phone from a distance of about 100 feet, which makes it useful both ways - to find a lost item or your lost phone. The device can be paired with Android as well as iOS devices and works with a companion Motorola Connect app on Google Play Store and Apple App Store.
"If your phone decides to play hide and seek with you, you can press a button on Keylink to make it ring up to 100 feet away," Motorola said of the new accessory. "Or if your keys get a similar idea, you can use the Motorola Connect App to make Keylink ring."
Keylink brings a useful function to Android smartphones running the Android Lollipop 5.0 such as second generation Moto X, Droid Turbo and others. Navigating into the phone's settings, users can keep the phone unlocked when the Keylink is within a discoverable range. When the device or the Keylink is out of range, users must enter their password in order to continue using the device. This ensures both security and convenience.
After setting up the Keylink with the smartphone, users can worry less about running out of charge anytime soon as the tiny gadget uses a replaceable coin-cell battery that can last over a year.
Keylink works with iPhones running iOS version 7.1 and above and the companion app can be downloaded from iTunes for iOS devices and Play Store for Android smartphones.
Motorola Keylink comes at a reasonable price point, at $25 each, and can be pre-ordered from Motorola's official website or through T-Mobile.