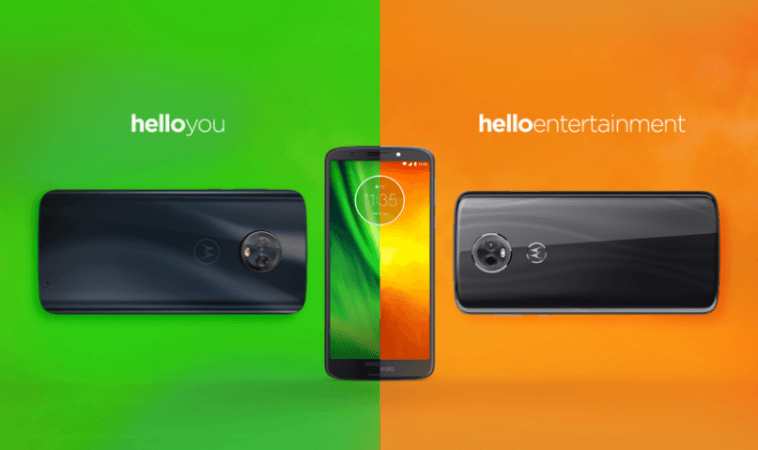 The Xiaomi Redmi Note 5 series helped the company gain dominance in the Indian smartphone market for the second quarter in a row, but the handsets will soon meet their match as Motorola gears up to release two new budget premium smartphones in the country soon. Moto G6 and Moto G6 Play are highly expected to arrive in India, but there hasn't been an official word on the matter until now.
Motorola India's official Twitter handle was updated with a tweet confirming Moto G6 and Moto G6 Play's imminent arrival. The company did not reveal when exactly the new handsets will launch, but the teaser simply states they're "coming soon."
In addition to the tweet, Motorola has a dedicated microsite for Moto G6 and Moto G6 Play, where users can register themselves to be notified about the launch. The smartphones were launched in Brazil last month and the company is set to bring the Moto G6 series to China on May 17. While the features and specifications of the phones are confirmed, their pricing and availability in India remain a mystery.
In Brazil, the Moto G6 is priced at $249 and the Moto G6 Play costs $199, suggesting both phones will be priced less than Rs 20,000 in a way they will compete against the likes of Xiaomi Redmi Note 5 series. Going by the currency conversion, the Moto G6 could be priced in India for around Rs 16,000 while the Moto G6 Play could cost less than Rs 14,000.
Moto G6 – Key Features
Moto G6 features a 5.7-inch Full HD+ display with 18:9 aspect ratio, a 12MP+5MP dual cameras at the back with f/1.8 aperture and an 8MP front snapper with Group Selfie mode. The smartphone is powered by a 1.8GHz Qualcomm Snapdragon 450 processor, 3GB/4GB RAM, 32GB/64GB expandable storage and 3,000mAh battery with TurboPower charger.
Moto G6 Play – Key Features
Moto G6 Play also sports a 5.7-inch display but has a lower screen resolution of 1440 x 720 pixels with 18:9 aspect ratio. The cameras include a 13MP single lens rear-facing shooter and a 5MP front snapper.
Under the hood, the Moto G6 Play is powered by a Snapdragon 427 processor, 2GB/3GB RAM, 16GB/32GB storage, and a 4,000mAh battery with 10W charger. It's worth noting that both phones run Android 8.0 Oreo, support 4G LTE, dual SIM cards, fingerprint scanner and have nano water-resistant coating for protection against water splash.
There's no word on whether Motorola plans to launch the premium $299-worth Moto G6 Plus in India as the teasers only suggest Moto G6 and Moto G6 Play. Stay tuned for updates.