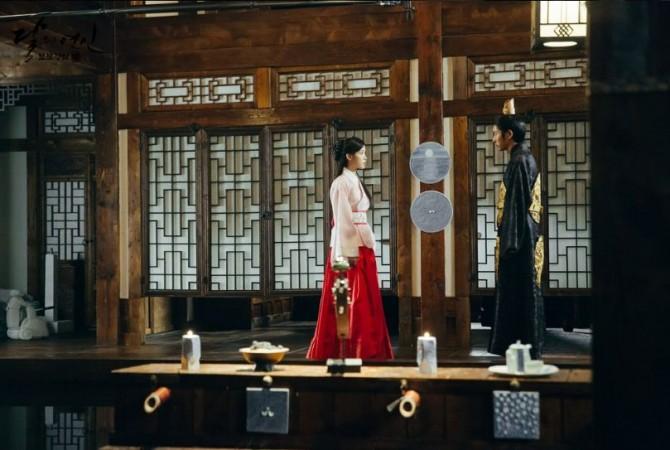 Much to fans' delight, Moon Lovers: Scarlet Heart Ryeo episode 20 (finale) could show a reunion between onscreen couple Hae Soo and Prince Wang So a.k.a King Gwangjong. The sequel will air this Tuesday, November 1, at 10 pm KST on SBS.
The penultimate episode of the period drama ended on a sad note as it featured a split between the two protagonists. The King's mistress is finally moving out of the palace with Prince Jung mainly because she does not want to see more bloodshed. She believes that her presence will prompt the king to kill more people, so staying back with him will be a selfish desire on her part.
Also read: Moon Lovers: Scarlet Heart Ryeo season 2; renewal reasons for the SBS mini-series
The cliffhanger has left the viewers puzzled about the fate of the onscreen couple. They are eager to know if the show is ending on a sad note. Although the official trailer indicates that the upcoming episode will continue to show the split between the two, speculations are rife on a reunion.
So far, the period drama has been featuring a series of events from Goryeo history, except for the portrayal of the onscreen couple. More over, if the show continues to feature the Hwangbo siblings' success in their evil moves, then it could send a wrong message to the viewers.
But the promo features Lee Ji-eun a.k.a IU's character with the 14th prince and Lee Joon-gi's character in the palace. In the video, the female lead is seen sending messages to her lover, but he refuses to read it until its too late to realise that she is no more.
Even the official Twitter page of the show hints at a sad ending. "We don't know what makes us more sad... The fact that the drama will end tonight and the fact that it might be a sad ending," read the tweet.
Click here to watch Moon Lovers: Scarlet Heart Ryeo episode 20 (finale) to know more about the onscreen couple. The sequel will also be available online here. Check out the trailer for below: