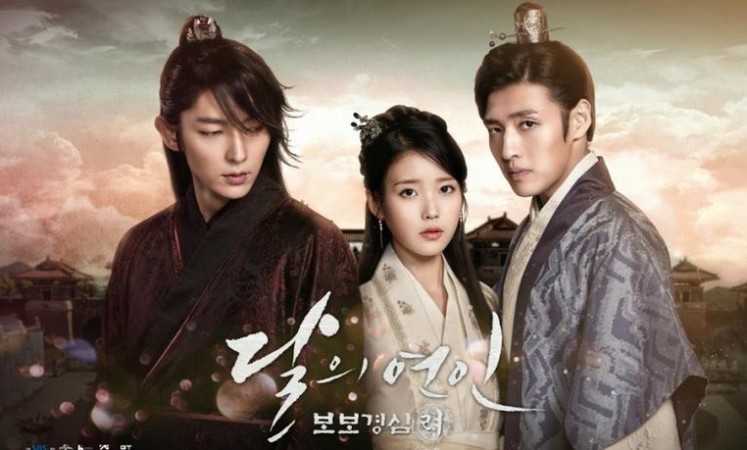 Moon Lovers: Scarlet Heart Ryeo finale is just a few weeks away and there is an overriding concern among the fans regarding its renewal. While there is no official confirmation on a second instalment of the SBS drama, speculations are rife predicting the potential new season.
The period drama, starring Lee Joon-gi, Lee Ji-eun a.k.a IU and Kang Ha-neul in the lead roles, is loosely-based on the historic events of Goryeo Dynasty and the Chinese novel Bu Bu Jing Xin. It revolves around the life of a court lady named Hae Soo and the princes of a ruling family, including Wang So, Wang Wook and Wang Yo.
Although the mini-series opened up to several criticisms, it gradually managed to impress the viewers with its appealing storyline.
The interesting plot twists and character formation of Scarlet Heart Ryeo exude mass appeal. As a result, the show succeeded in acquiring a high position in several international platform for fiction series.
With no reasons for a cancellation and more reasons for a renewal, rumour mills are on overdrive on a potential new instalment in the foreseeable future. Here are a few renewal reasons for Moon Lovers:
Viewership Ratings
First and the foremost, the element deciding the renewal or cancellation of a mini-series is its viewership ratings. If the show is on a profitable run with impressive ratings, the production house will definitely rake in the profits and support the period drama. Since the SBS drama has managed to gather good viewership ratings, it can be assumed that the network will renew the series for a second instalment.
Proper closure of storyline and role of characters
The mini-series began by portraying Hae-soo a.k.a Go Ha-jin as a 21st century woman, who gets transported back to Goryeo Dynasty as a 16-year-old girl. As of now, there is no clue on whether the character will end up as a court lady or get back to the modern world. If the period drama fails to give a befitting closure to the character, it will be disappointing for the viewers who have high expectations from the show.
International fan base
Despite the negative points it gathered after the premiere episode, the South Korean drama has managed to pull in a large number of audiences from across the globe. Within a month of its release, the show crossed one million views on a Chinese streaming site. Considering the popularity of the show, SBS could opt for a second instalment of the Korean mini-series.