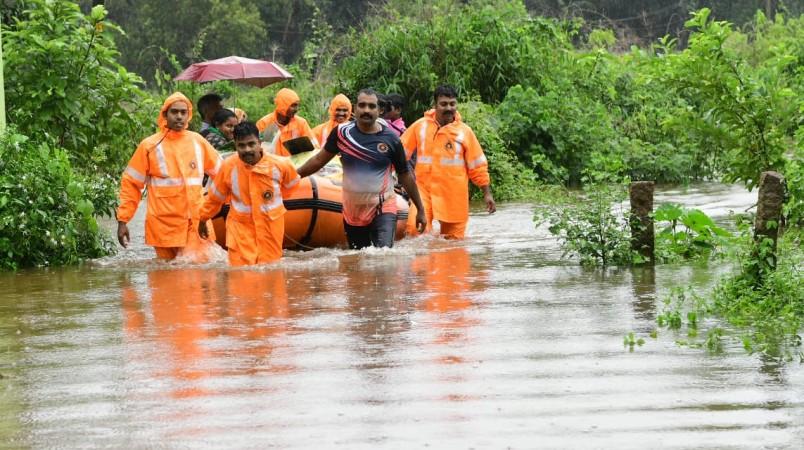 More than 100 people have died and lakhs displaced due to floods and landslides across Kerala, Karnataka and Maharashtra in the last week.
In north Karnataka alone, losses worth Rs 6,000 crore have been incurred in over 1,000 villages in 17 districts. Schools and colleges – both government and private – will remain shut till August 15. The train services have also been disrupted, as all Konkan Railway trains were cancelled on Saturday after a landslide in the Karwar area.
At least 57 people were reported dead until Saturday in Kerala and over a lakh were shifted to relief camps. The Indian Air Force (IAF) teams found it difficult to conduct the search and rescue operations due to the worsening conditions in Wayanad and Malappuram districts.
The situation in Western Maharashtra is expected to improve, as five lakh cusecs of water was being discharged from Almatti dam on the Krishna River in Karnataka.
Maharashtra Chief Minister Devendra Fadnavis, on Saturday, attributed the flooding to "unprecedented" rainfall this monsoon, which was "more than double" of that in 2005 when massive floods had been witnessed.
Here are the live updates of monsoon across the country:
Live Updates
Rahul Gandhi arrives in flood-affected Wayanad
Rahul Gandhi reached Kozhikode airport and left straight for Malappuram district, which also falls in his parliamentary constituency Wayanad.
South Western Air Command of IAF has deployed 8 helicopters to provide assistance in Gujarat and Maharashtra
South Western Air Command Chief Air Marshal HS Arora says,"to provide assistance in the prevailing flood situation in Gujarat&Maharashtra,South Western Air Command has deployed 8 helicopters...So far all rescue requirements for marooned people have been completed successfully." pic.twitter.com/bxqyrqFMO1

— ANI (@ANI) August 11, 2019
3 dead after landslide in Kottakunnu in Kerala
At least three people died due to a landslide in Kerala's Kottakunnu on Friday afternoon around 1:30 pm.
Road clearance work by NDRF in Kerala
Thal-Munsiyari road in Uttarakhand shut
Uttarakhand: Thal-Munsiyari Road near Banik in Pithoragarh has been shut after boulders & debris blocked the road following heavy rainfall in the region. pic.twitter.com/JKLvriDaSI

— ANI (@ANI) August 11, 2019
IAF rescues 6 people stranded near Karnataka's Narayanpur Dam
Indian Air Force: Mi-17 rescued 6 people stranded near Narayanpur Dam, Raichur district, Karnataka. A pregnant woman in need of medical aid was attended to by an IAF medical officer on-board the helicopter and later transferred to a hospital on landing. 1/2 #KarnatakaFloods pic.twitter.com/C8swyMg1gh

— ANI (@ANI) August 11, 2019
Damage assessment report sought after flash flood in Odisha
The Odisha government has directed nine district collectors to submit an assessment report on damage occurred due to heavy rainfall that triggered flash flood in the state.
Owing to the heavy rainfall during the last week of July and first week of August, several parts of the districts were flooded and inundated.
"The assessment of damage to private properties such as houses, animal, husbandry, loss of boat and net, damage of fish pond/fish seed farm, sand cast, damage to crop and loss to handloom and handicraft artisans and enumeration of beneficiaries has to be taken up on priority so that assistance as per the norms of SDRF/NDRF can be paid to affected persons expeditiously," said the Special Relief Commissioner.
Legal action against those selling products on higher price: Kolhapur Collector Office
"Legal action will be taken against those who are selling products/commodities in increased price, taking advantage of floods in the city. Citizens are requested to call on 1077 & 2655416 for any such complaint," Kolhapur Collector Office stated.
Stranded people rescued from flooded homes, streets in Kolhapur district
Red alert issued in 9 Kerala districts
Heavy rain has increased across most parts of the State. Red alert has been issued for 9 districts in North and Central Kerala, 3 districts in Central Kerala are under Orange alert and remaining 2 southern districts are issued yellow alert. #KeralaFloods pic.twitter.com/Ir2g7Hwwlu

— Pinarayi Vijayan (@vijayanpinarayi) August 9, 2019
Navy deploys 8 relief teams, 2 helicopters in Belagavi and North Karnataka
Rear Admiral Mahesh Singh NM,Flag Officer Commanding Karnataka Naval Area:Navy has deployed 8 relief teams&2 helicopters in Belagavi&Uttar Kannada dist. The teams have so far managed to rescue nearly 2,200 people. As of y'day evening,waters have started receding. #KarnatakaFloods pic.twitter.com/o4kXZKchcm

— ANI (@ANI) August 11, 2019
Kochi airport resumes operations
The Kochi international airport resumed flight operation on Sunday afternoon, two days after it was shut due to flooding on the runway following a torrential downpour.
The Abu Dhabi-Kochi Indigo flight touched down at around 12.15 pm, marking the resumption of the operations, the Cochin International Airport Limited (CIAL) official said.
WATCH | Gujarat police constable carries two children for over 1.5 km in flood water
5 lakh will be given as compensation to kin of deceased in Maharashtra
Maharashtra CM Devendra Fadnavis said 5 lakh will be given as compensation to kin of deceased. Around 3.78 lakh people have been rescued and it will take 48 hours for the situation to be normal.
Kerala CM convenes high-level meeting to assess the rain calamity
Will be visiting relief camps across Wayanad: Rahul Gandhi
For the next few days I will be based in my Lok Sabha constituency, #Wayanad that has been ravaged by floods. I will be visiting relief camps across Wayanad and reviewing relief measures with District & State officials.

— Rahul Gandhi (@RahulGandhi) August 11, 2019
Kavalappara landslide: 9 bodies recovered so far
At least nince bodies have been recovered so far in the incident of a landslide that occurred at Kavalappara in Malappuram district's Nilambur.
The rescue operations were halted on Saturday due to the bad weather conditions
Gujarat receives 83% excess than normal rainfall
Gujarat has received 678 mm rainfall in the last 24 hours, which is 83% excess than normal.
Out of 251 talukas,
46 received more than 1000mm
90 received 501-1000 mm
104 received 251-500 mm
Rescue operations conducted by NDRF in Karnataka
Changes in the Kerala train services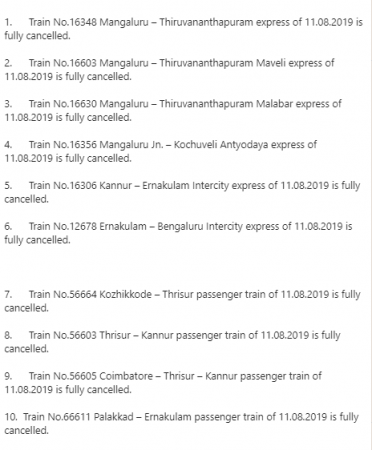 Railway announces no freight charges on relief material sent to flood-affected states
Railways has announced that no freight charges will be levied on relief material sent to the flood-affected states of Karnataka, Kerala and Maharashtra.

We urge you to help us in this effort and send as much relief material as possible, which we will transport for free. pic.twitter.com/X10DryEeoA

— Piyush Goyal (@PiyushGoyal) August 10, 2019
Karnataka CM Yediyurappa and Union Home Minister Amit Shah to conduct aerial survey
Heading to Belagavi for an aerial survey of the flood affected areas along with Hon'ble @HMOIndia, Shri @AmitShah ji. Will be conducting a meeting with the senior officials to evaluate rescue & rehabilitation measures.

— B.S. Yediyurappa (@BSYBJP) August 11, 2019