England-based businessman Mohammed Bhai, who is at the center of Mohammed Shami's match-fixing allegations, has denied any wrongdoing and claims he will cooperate with the investigating agencies.
Shami's wife Hasin Jahan had earlier accused the India speedster of fixing matches. She had claimed that her husband took money from a "Pakistani girl" named Alishba on the insistence of Mohammed Bhai in Dubai.
Alishba, who admitted meeting Shami in Dubai last month, has stressed she has never met Mohammed Bhai. She also rubbished Jahan's claims that the Delhi Daredevils bowler took money from her, suggesting they never exchanged money during their meeting in February.
Mohammed Bhai has now come out and echoed comments made by Alishba, suggesting the two have never met before. The businessman even stressed that he heard about the Pakistani model for the first time through the media.
"Neither have I done anything wrong, nor am I associated with such things. I never talked of match-fixing or offered money to anyone. I was born India and won't ever let my country down," Mohammed Bhai told ABP News.
"I am hearing the name Alishba for the first time through the media. I have never met any woman called Alishba in my life. I am open to any probe by the BCCI or anti-corruption agencies.
"Even if I have to go through a lie-detector or narco test, I am up for it. I will cooperate with the agencies if they approach me."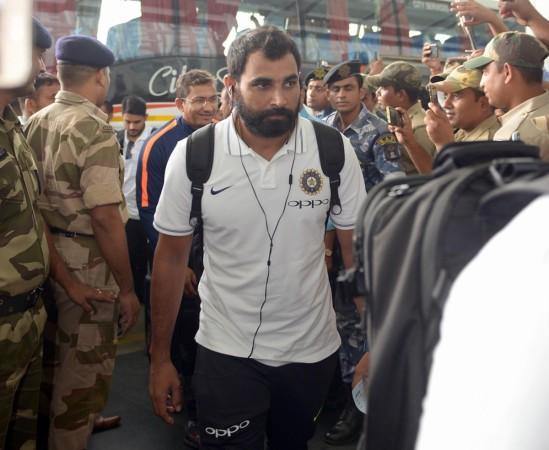 The Board of Control for Cricket in India (BCCI) has put Shami's annual retainership contract on hold after he was accused of match-fixing. The board's Anti-Corruption Unit (ACU) is currently investigating these claims.
A First Information Report (FIR) has already been registered against Shami and four others based on the complaint made by the pacerman's wife. The Kolkata police are already investigating the case and have already received a letter from the BCCI confirming that Shami was in Dubai on February 17 and 18.
Team India bowler will get back his annual contract if he is absolved of match-fixing charges. The BCCI has already said they will not judge Shami based on Jahan's allegations of domestic abuse and violence.
Jahan, now claims she never made match-fixing allegations against her husband. She stressed that it was Shami, who was bringing match-fixing angle into the feud between the pair.
Mohammed Bhai, who was born in Gujarat, has been residing in the United Kingdom for more than two decades. He runs a "small business" of mobile phones in London and claims he used to take Shami and his wife out for meals when they were in England.
"I had met Shami and Hasin when the cricketer was on England tour for matches. Hasin used to call me 'bhaiya' (brother) and I respect her because she is like a sister to me. Whenever they (Shami and Hasin) wanted to go for a meal or shopping, I used to take them out," he said.
"I own a small business of mobile phones which keeps me busy most of the times but I still used to go to meet them whenever required. We used to ate and travel together."
"I own a small business of mobile phones here in London. I earn money through lawful and legitimate ways. I am not any influential person but a commoner, who lives with his family happily in a small house."
Related